We are preparing for our trip. We are at about 1 ½ months to go. It is becoming Fall-ish. And that means one thing – state fair time. Oklahoma is blessed with two state fairs. Huh? How's that, again? Yep. Two state fairs every year. The Great State Fair of Oklahoma and the Tulsa State Fair. The GSF is in OKC. The Tulsa SF is in….Tulsa. We are close to Tulsa. We don't like the TSF. We like the GSF. So I like to go to the website and see who is coming each year. A couple of years back, we discovered that Disney On Ice was pretty cool. We saw Toy Story 2 on Ice. At that time our #1S was really into Toy Story.
I checked the website to see what was coming and knew in a flash we had to go. The Incredibles are going to Magic Kingdom. WoW! What a co-inky-dink.
The show was also going to be at the TSF. But a couple of things stood in the way. First was that we don't like the TSF. Second was that it would happen while WE were at WDW.
Then I looked on the activities list and saw another Disney link. At one of the pavilions was Raven Symone. And right now #1S is so into Disney pre-teen shows. He loves Suite Life. He likes Hannah Montana. He likes Raven. So we knew he would love it.
So we plan the mini-trip to OKC for the GSF…KWIM?
There was one little hitch. Raven and the Incredibles were both going to be in OKC only one day: Sunday. Now refer back to the introduction. See my job? Pastor. I ONLY work on Sunday. So we worked around the church schedule and knew that we had, at best, 30 minutes of stretch room.
So the day arrives. Drebert has a great plan. She ditches out of church early to get us lunch ready to eat on the road. So we can get out and I can just change clothes. Then we will be on our way.
Church ends. I shake hands. And when it thins to the point of the last stragglers, I grab my stuff and head out. Swish, change clothes. Back in the car in record time. Actually I was a little slow, but still had plenty of time. In the car and on the road. We still had our 30 minute window. Outstanding.
OKC is 2 hours from our front door. And that day it was raining. YAY!!! No really, we need it. So rain was beautiful. Except now the fairgrounds would be puddled (it quit raining over the fairgrounds before we left). Cruising down the road. Kids are watching their movies. Snacking on sandwiches and chips and Zebra Cakes. And we get to OKC with the same 30 minutes to spare.
It was cloudy and cool. It had been raining all morning long. We were hoping for low crowds. As we round the highway to the fair, we saw the lines of traffic on the offramp. Both directions. Down the highway we see that another entrance to the park is lined up about two miles long. This is not going to be a low crowd day.
But I proved that I know how to beat the lines. Found an entrance with very little lines. Then we pull up to the gates and the line for tickets is one block long. Dadgum, what is this? I've never seen lines like this. It hit me late why I don't remember lines like this. We don't normally come on the weekend. But I drop Dre and #1S off to deal with a line, while #2S and I park the car. Well, I park the car. He keeps running commentary. Like, "Why are all these people at the fair? Why did we come to the fair?" Not in an obnoxious, "I don't want to be here" way. More of a what is this new experience kind of way.
Park the car and hike to the gate line. Wife and #1S are standing off to the side. I think for a moment, "Woman, what are you doing? Get in line." But I knew the answer before I spoke. It was just a man reaction. See we had entrance tickets. 'Cause we buy tickets online. And you get entrance with the purchase of Disney On Ice tickets. So we march in with no line. "See ya'; didn't wanna be you" was kind of running through my head. In a small voice.
Not like God's.
So we have 10 minutes to find the Raven concert. We get there just as the music is starting. Be we don't see Raven. Oh she was there. So were most of the pre-teen children from the greater Oklahoma City area. It was packed. Overflowing out of the pavilion and outside. And we weren't getting in. Dre tried, bless her heart. But there was no way she and the boy were getting anywhere close for him to see Raven. So we left.
And then we wandered around the fair. Killing time for the Incredibles. Had some funnel cake (#2S eats the heck out of funnel cake – Nanny's influence). #2S also announced that the funnel cake wasn't nearly as good as the funnel cake at the local water park. #1S had a big honkin' pizza slice. Mostly by himself.
Then it was time for the show. A quick change into costume for #2S. Dre put his Incredible uniform/costume in the car. So he was now ready to join the fight for being above average. We walk into the arena and get our programs ($8 with free mask) and our wristbands (free with paid admission) to help save the Kingdom. Dre picked up a second program and mask (no bickering please) and we were in for the show. We had great seats. Except for the poor family behind us with a very cranky little one. It unnerved me, but I was sympathetic. No evil stares and not too many heavy sighs.
And the show began. This was a great program. I loved the original plot. This was not a rehash of the movie, like some DoI shows. New material and familiar voices. All of the Incredibles and Frozone appear. Mickey, Minnie, and some of their friends were there. The Tiki Room, Jungle Cruise, BTMR, the Mansion, IASW, and PoTC all got attention. It was a fun romp through the Magic Kingdom. On ice. And it was a great way to start the last week before the next week when we will be there. For real.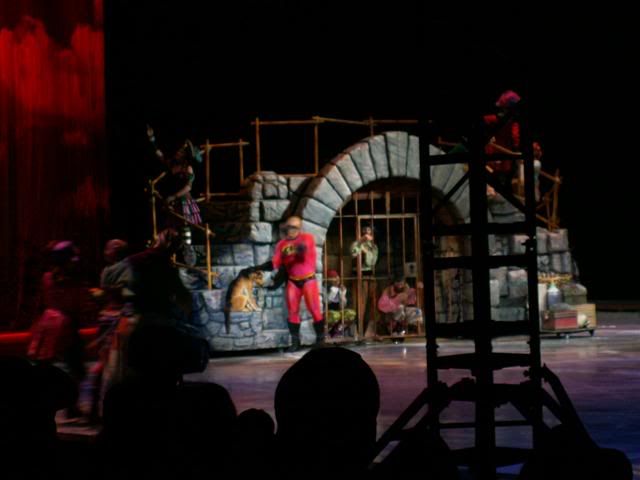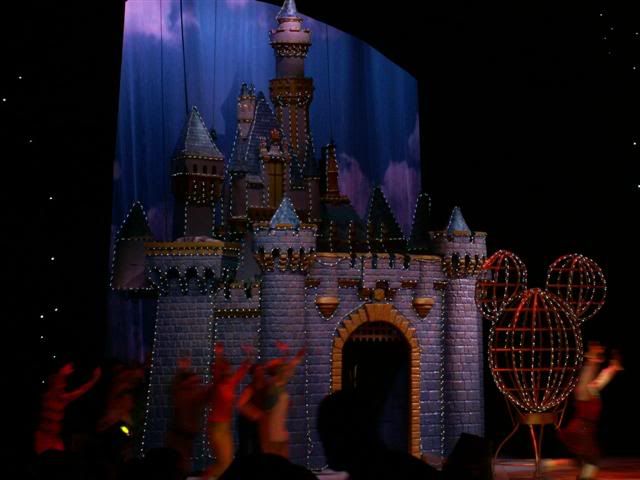 Look out Syndrome. The Bergman's are coming to WDW.