Days of waiting and living with the expectation of vacation was maddening. We spent the days of that last week counting down the days. I had lots of time to ponder: what are we forgetting? Did I get the planes right? Do I have all of the ADR's planned? Is there any way the kids can stay home at this point?
That last one was not true. I was committed to taking them. Just not excited. I kept having flashbacks of the last trip. And Lisa was threatening them with not going. So I didn't have to.
Friday arrived. This was Trip-mas Eve. We were driving out on Saturday for Kansas City. But Friday night was special, too. For #1S. He had a slumber party. 9 7- & 8-year old boys. Talk about the craziness involved with that. Amongst yourselves. Cause we were content. Only one child to deal with was a vacation in and of itself. Plus we had some friends take us out to dinner.
Thanks again, y'all. And thanks again for that other thing.
Saturday dawned bright and beautiful. I've heard that somewhere and thought I'd use it because it was a be-a-yu-ti-ful day. We were leaving. #1S was done with his party at 9:00. Lisa went and got him. We loaded up the car when she got back. And I mean LOADED. That poor thing was groaning each time a bag came out of the house. By the time we were done there was luggage everywhere.
8 days of vacation required 6 suitcases, 5 carry-ons, and a stroller. Crap. I was groaning every time a bag came out. And I was carrying some of them. At one point I looked at the pile of luggage. Then I looked at the open trunk. Then back at the luggage. Then the trunk. Luggage. Trunk. Nope. There was no way it was all going to fit. And it didn't. It had to go up front with the boys. Not instead.
Once everyone and everything was loaded (we assumed) we headed out. Wave bye to the house. Wave bye to the church. Wave bye to the money we will be throwing away enjoying the heck out of ourselves. But we didn't care. We saved for this trip and it was going to be fun. Or someone was going to die.
Then the cell phone went off. I was two miles from the church when it went off. And I knew who it was. No, it wasn't a weird psychic thing. I have my phone to play a certain song when people call. But you were a little freaked out, weren't you. I answered the phone and it was a church member. He had a request. "Have fun," he says, "but get me a picture of you kissing Mickey." Okay. One picture of me kissing the big cheese eater.
On a side-note, have you ever seen Mickey eating cheese? I mean really, he isn't your stereotypical mouse. Even Jerry (of Tom &…) ate mouse. Rizzo the Rat – cheese. Chuck E. Cheese – ummm – yeah. So, as much as some of my Viking friends like to assume about me, I think Mickey may have a cheese aversion. Me, not so much.
So, phone call ended, we are on the road. First order of business is not crashing and dying. I have that thought run through my head a lot when I'm on long trips. But a second or third order of business is breakfast. Because this is a special trip, we decide somewhere special for breakfast.
The World's Largest McDonald's. It's in Oklahoma. Says so on the billboard outside the restaurant.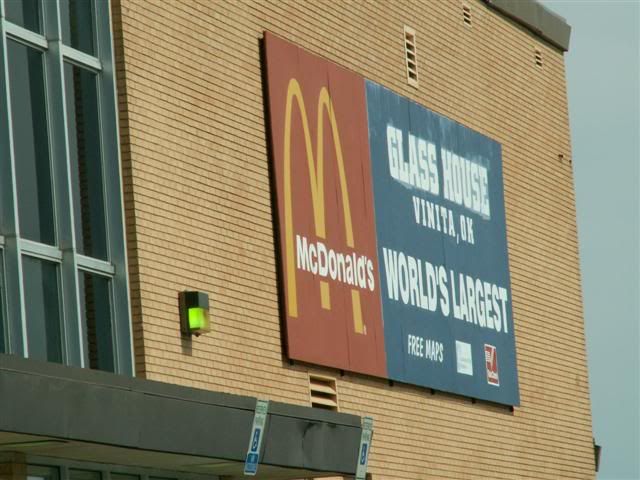 And that's where we ate. Well, Lisa and the boys ate. I had the breakfast of cops and bus drivers – coffee. Then we were back on the road.
We got to Kansas City without incident. 4 hours and nothing special but breakfast. We even got to the hotel without getting majorly lost. Yay! But……..