Ya'll really don't care about all that other stuff. What you want to know about is the parks. Well we finally got to the parks. But it took some time. We got to the hotel about 4:30 and out of the room at about 5:00. We stopped long enough to watch the geyser erupt.
Funny. We didn't take the time to see that last time. But this trip will be different. We will take time to do things. Because the wife said so.
We troop down to the docks to catch the bus to MK. Blue or Green. Blue or Green. This is sort of like Matrix. And our choice resulted in a Neo warped reality. Because I forgot that the boats reverse directions after a certain time in the afternoon. So we hopped on the boat thinking we were headed to MK when in reality we were headed for Fort Wilderness. Now it doesn't take that much time to get there and back to MK. But this was our first day. And we were ready for some fun. Airports are NOT fun. Airplanes are NOT fun. Buses with broken T.V.s are NOT fun. Boats that don't go to the Magic Kingdom when I think they should are NOT fun. Double NOT.
Bye Boat!
We arrive at the Magic Kingdom (Disney World to #2S) and there are people leaving. YES! That's what we want to see people. Get out. We want to visit the parks without you filling up the lines. And you know what. The lines were out of this world, unbelievably short. First ride was PoTC.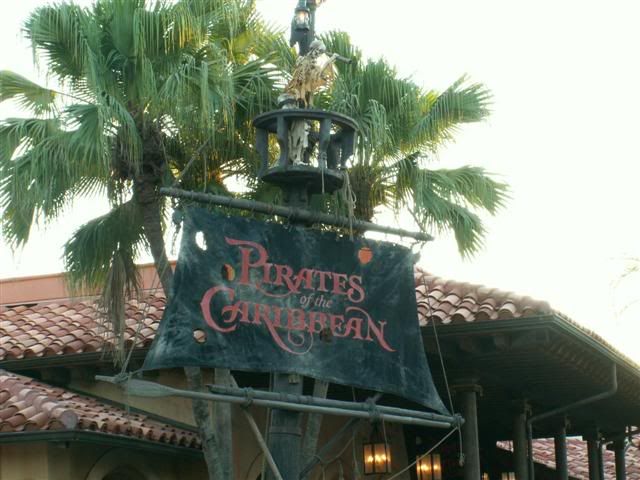 The boys were dying to see Captain Jack Sparrow. They had seen the home spun video on the net. They had heard the news. And they were ready to see him. He was cool.
And what was even more cool was that the plan was in place. I knew exactly where every stop was. We were going to wipe out 6 or 7 rides and spend the rest of the evening doing whatever (EMH and all that). Got off of Pirates and saw the wristband distribution. We were now ready to do the plan into the late hours. Except for one thing. The plan got tossed. After 1 ride. Poof! No more plan.
See we were expecting to have a bit of a problem getting the little wee lads with us to cooperate and ride things. But it was the opposite. #2S was ready to tackle the World. After seeing the Disney On Ice production (go back up and read about it), #2S was really enraptured with one attraction in particular. After Pirates, it was the only thing he really wanted to see. And our boys love their heroes types. So when he latched onto this one attraction, we knew it had to be done ASAP.
So we went to the Tiki Room.
Yep. Tiki Room. Why?
In the Tiki Tiki Tiki Tiki Tiki Room.
In the Tiki Tiki Tiki Tiki Tiki Room.
All the birds sing words and the flowers bloom in the Tiki Tiki Tiki Tiki Tiki Room.
Got a little something stuck in the grey matter now? Hmmmm? Yeah, me too.
I just had to share.
But #2S had to do the Tiki (in the tiki tiki….stop that) Room. And we obliged. Then he had to do the Dumbo clone – Magic Carpets.
With all lines we had all three were done in less than 30 minutes. And we were ready to eat.
I really wanted to try Pecos Bill's. And get us back on the plan. MY plan. So we rounded the corner and headed for the Brazos. Or what passes for it in MK. Pecos Bill's was really looking good. To everyone, that is, except Mr. I-don't-like-food #2S. There wasn't anything he would touch on the menu. So we walked out on the promises of a fixin's bar. And on resurrecting The Plan. In my head I could hear the paper being wadded up into a ball.
We ended up at Casey's for hot dogs. #2S will eat hot dogs as long as they don't have brown on them. Brown. Little places on the outside skin of a hot dog that changes color from meat reddish to brownish. He won't eat it. So we are fortunate that Casey sells brownless hot dogs.3 dogs. On the dining plan. Yumm.
Except #2S. He won't eat the brownless hot dogs. Not because of the dogs. Because of the ducks. As in the pushy "don't feed the" ducks. #2S has a serious problems with any animals outside his own species. No dogs or cats in our home. Petrifies him. I had to go to a neighbor's house one evening to help him out with medicine. The boys had to go with me. The neighbor had a huge golden retriever that was, unfortunately, paralyzed in the back legs. The dog wasn't going to jump or run after anyone. But it had a big bark. And when we got in the house, it went off. #2S refused to come into the house. So I had to physically pick him up and carry him into the house. I set him on the stairs and told him the dog could not come and get him. I turn around to help my neighbor and Andrew starts screaming again. I go back and check on him. "What's wrong?" He says, "The dog…….it's looking at me."
Somewhere in his mind, he looked like a MilkBone.
So back to the ducks. The ducks kept coming up to the table looking for food. Hasn't anyone shown these foul fowl the signs? Or even given them a napkin? Of course, technically giving them a napkin, which they might eat, would be feeding them. But you know what I mean. So please, quit feeding the dadgum ducks at Disney. And don't argue Donald. He's on the profit sharing plan. Don't feed him either because he can afford Disney dining without the free food.
At the dinner table, we decided that #2S gets to have desert regardless of how much he eats. It seemed like a small thing to keep family harmony.
Oh, and a little side note. Ladies, I have a beautiful wife who likes to look good. I also have grown up with women who were concerned about their appearance. My grandmother, mother, and sister all owned their own beauty shops. So let me give you a little advice. If you are going to wear white pants or shorts, please, for pities sake, don't wear rainbow striped underwear. We had to follow one lady who chose to ignore this simple principle for life. And she had to be made known here.
And we came up with a new plan. Daddy's happy now.