Magic Kingdom is a very cool place. But I don't have to tell the DISer's that. I do have to tell the folks on my blog that, though. Hi blogsters!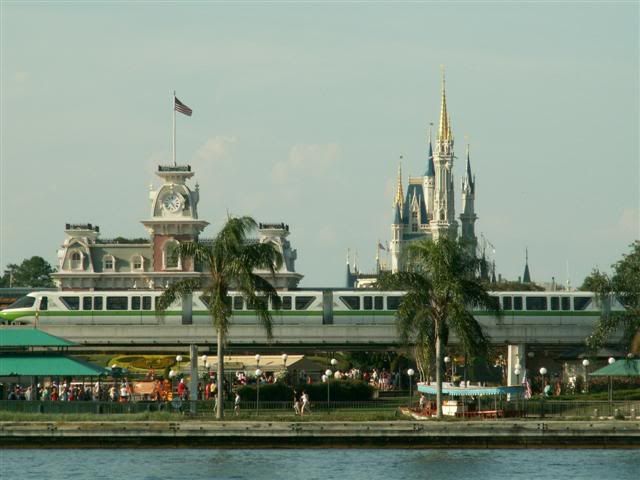 But we head out of Casey's after eating a pretty durn good dog. And a half for me. And we have a new plan. Off to Neverland. Literally. We headed to Peter Pan.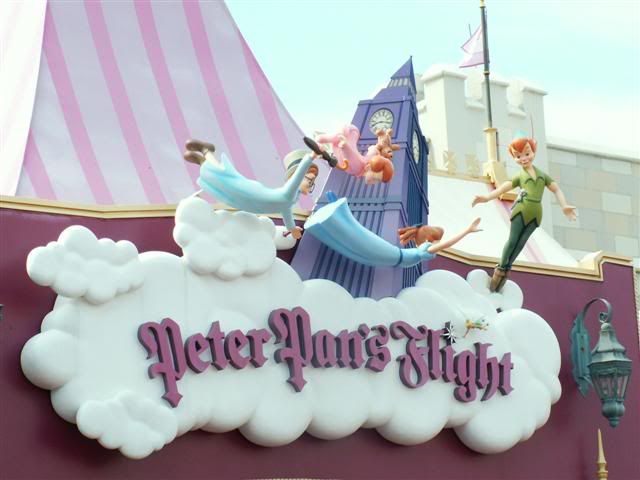 And horror of horrors, there is a line. A 20 minute line. What is the meaning of this? We walk on Pirates and don't even have to wait for the Tiki Tiki Tiki room. Now a 20 minute wait. And the boys encounter their first hurry up and stand still location.
When we get on board we split up. I get #1 and Lisa get #2. And that is the way it went most of the trip. #2 needed Momma's reassuring presence. #1 was old hat at this. By the way. #1 and #2 is not a favorites designation. If it were, then the numbers would be a lot different. And change more often.
#1 is the oldest and #2 is the younger.
#2 LOVED Peter Pan. He has watched it a couple of times. But he loves Return to Neverland. He will be Peter Pan for the Mickey's Not So Scary Halloween Party. To my Captain Hook. But more on that later. Right now he is totally enthralled with his new favorite ride. And he insists that we do it again. But we have other places to see. Like the world. With little bitty doll children. Singing incessantly. And since it was right across the way, we walked right on It's A Small World. 'nuf said.
We headed the rest of the way around to Haunted Mansion, a family favorite.
Except #2. He didn't like it. Sometimes. At other times he did. He kept going back and forth on this ride. He finally came down on the side that he didn't want to ride that again. But just like the weather in Oklahoma, wait 5 minutes, it'll probably change.
After scaring the crap out of our youngest, we decided to do Snow White's (Scary) Adventure. You may remember earlier in this epic journey I made the comment about #2S having reality issues. Well, Snow White was too real for him. Not that it scared him. Or scarred him for life. Well, it may have. Time will only tell. But days later he was still trying to process what he saw in the ride. He has seen Snow White. But going on the ride proved to be too realistic for him. He wanted to know days later why Pooey (our family's name for the Old Hag) was putting the apple in that stuff or why Pooey was trying to push a rock on us or why Pooey fell off the rock. He really had a hard time dealing with that ride.
Oh yeah, I forgot, we didn't do Snow White then. We couldn't because it was roped off for the fireworks. And we were right there behind the Castle. So you know what we did next, don't you? We rode Winnie the Pooh. After which Lisa proclaimed it the lamest ride of the entire trip. There wasn't any wait to get on, but that didn't make it any less lame for Lisa.
After Pooh we hotfooted it over to Buzz. It wasn't a walk on, though. We RAN through the line. There was no one in line. And it was lots of fun. #2S put it on the repeat list. He really liked it. So what about #1S, you're probably wondering? He is a different kind of child. Not in a bad way. Just….in a different way. He won't tell you something to hurt your feelings for anything in the world. If Lisa or I makes fettuccine alfredo and we ask him which he likes best, he will say both. But he knows mine is better. If you ask him what he thinks of a ride, he will say it was good. Every ride. So he doesn't get a lot of air time here.
After #1S and I whomped on Zurg (and desperately beat the 'Bert car) we headed back and did Snow White. See paragraph referenced above.
Then we headed to Mickey's Philharmagic.
WoW! That is all I have to say. Well, no it isn't. That was an unbelievable show. Outstanding. One of my top 3 favorite attractions. See, that wasn't all I had to say. In the words of the little voyeur kid in the Incredibles, "That was totally wicked."
But there is one small problem. Disney please take note that you broke the heart of one little boy. #2S was totally psyched to see Goofy. And he was teased with the whole thing about hearing Goofy around the theater. It was really cool, but it only set #2S up for a major let down. Goofy was nowhere in the show. And we had to soothe the poor boy's broken heart. He wasn't even satisfied when we looked all around the Fantsyland courtyard and found Goofy taking pictures with folks. He was totally let down and crying his little eyes out. So just a hint Disney, a little Goofy would go a long ways around Philharmagic.
But that little episode proved to us one thing. It was time for bed. We headed back to the Wilderness Lodge to sack out. Here I would like to say a couple of things to process the day.
Getting up at 3:30 is stupid.
Flying on airplanes is a pain in the neck.
The Wilderness Lodge rocks (even though it looks like wood).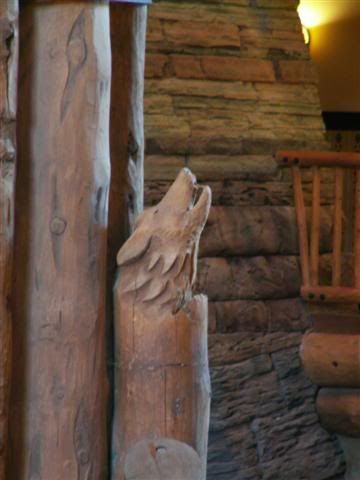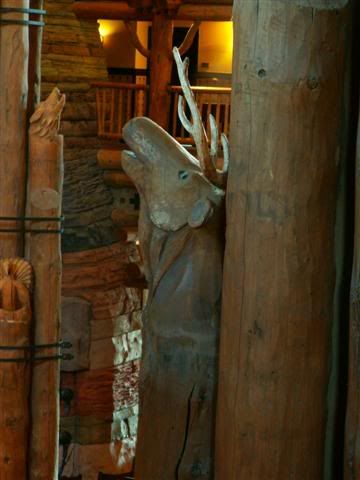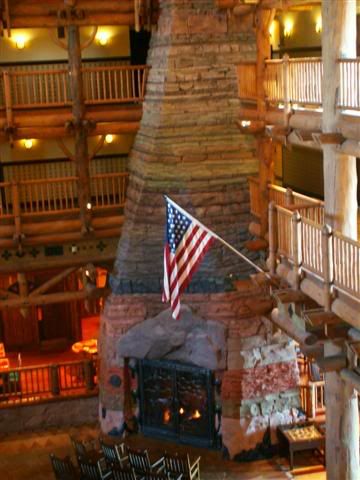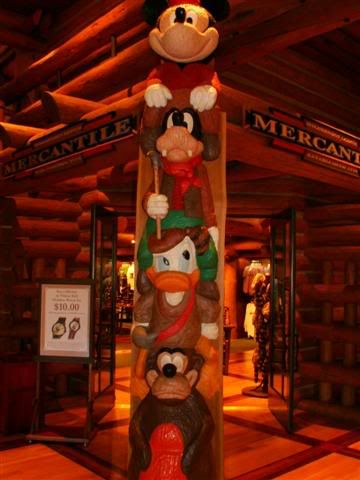 Children can be pushed to beyond real physical limitations. They are tough. It's parents who are wimps.
The beds in our room are heavenly.