The next day was Animal Kingdom day. So we got up to get ready to head out. In the process of getting ready, I discover the first horrible mistake of the day. Today is Extra Magic Hour Entry at AK. Why is that a mistake you ask? Because I planned it that way and then forgot it. So the plan was for getting to AK for EMH and rocking along. We didn't get to AK until about 8:30 (30 minutes late in the plan). I was headed to Everest for a FastPass.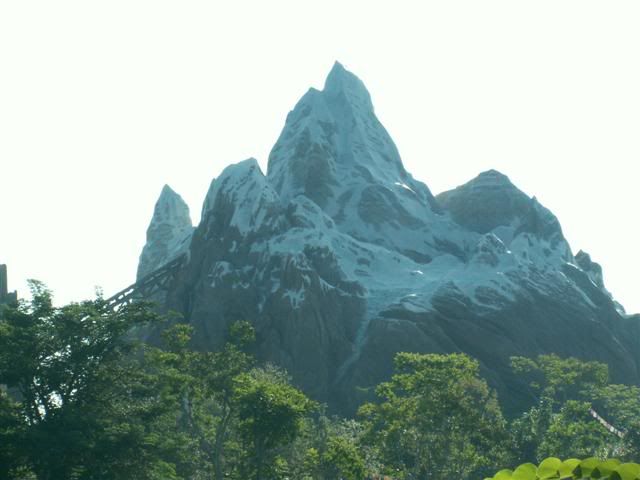 The line was only 10 minutes, but Lisa and boys were on Kilimanjaro and I wanted pics of the animals. That's why we went early. To find the critters. And shoot them. With a camera.
So I grab my FastPass and head back toward the safari. I stopped to takes some pics and checked my phone. Hmmmm. Missed call. Who could it be? Why, it's my lovely wife. "Hi, it's a 30 minute line. We'll wait for you." I call back, "No, go ahead and go." I waited for them at the end. And waited. And traded a pin. And waited. And watched folks. And waited. About 1 ½ hours after we get into the parks (around 10:00) they finally get off of the safari. Dadgum. That's a lot of wasted time. And I knew right there that the plan was shot again.
We headed toward Camp Minnie Mickey to watch Lion King. The boys stopped to do one of the AK version of Kidcot.
By the way, check out the hat. Look familiar?
I'm so proud. But they didnt' sell tube socks.
On the way we spotted the character photo shoots and joined in. We got some real great pics. But again not a lot of magic. No real play time with the characters.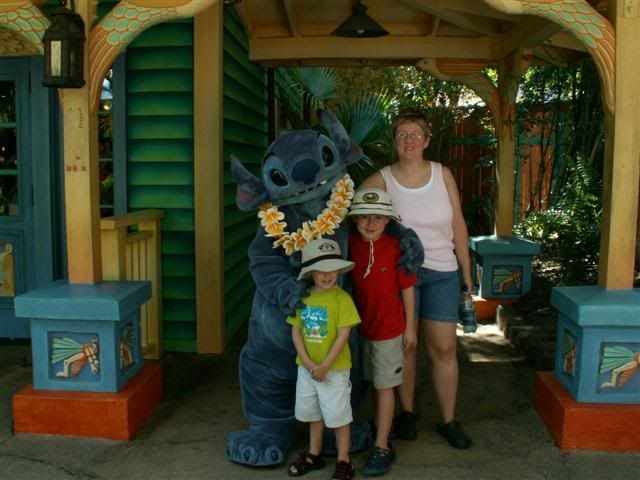 Once we got all the pictures done (except Minnie because we would see her later) we headed to the Festival of the Lion King. This was one of many things we didn't get to do in the previous trip. We can't blame the boy for this one, though. We just ran out of time. But we got to see it this time.
Albeit a little late. We were sitting on the benches, ready to watch the show, when Lisa observes that someone may be hurt. I turn to look where she is pointing, and sure enough, EMT's were headed up into the bleachers. Appeared to me that someone passed out. But she seemed alright from our point of view. So the show went on. And it was a great show. Too bad we missed it last time. We would have repeated it this time. But since we didn't see it last time, we enjoyed it for the first time this time. K?
At this point in the timeline (it is no longer a plan, remember?), we decided it was chow time. Now since #2S isn't a picky eater, it was decided to split up and use a dual front attack. Lisa would make the first sortie at Pizzafari because they do PB&J Uncrustables.
Oh. Flashback time.
You may remember a comment about us getting groceries way back in this report. WELLLLLL, that little plan didn't work out, either. We sort of forgot to order the food before we left. And then, when we tried to place our order online at the hotel the night before we left, all delivery times were filled up. So no groceries for us. Flashback over.
Current past trip now resumes.
Lisa heads off to find the munchkin a munchies. I take the two boys firmly in hand and we head off to Restarauntasaurus to get #1S McD's type munchies. This kid can eat. He blows us away on the amount of food he can pack away. So he orders…..a happy meal. 4 chicken McNuggets. Just so he can get the lame-o toy. And then didn't eat the fries. And was hungry 15 minutes later. And begging. It was pathetic. Him going up to complete strangers and looking pitifully at their trays of food, looking for a hand out.
Naw, just kidding. He WAS looking at my tray of food, though. My dessert, actually. After Lisa returned from her safari for the elusive PB&J, she took the boys out on the deck of the DinoDonald's. #2S had plenty of time to eat his meal. DinoDonald's took forever. And all I ordered was a Happy Meal. But she took the boys and #2S began to dig in. I brought #1S's meal to him and he snacked. I left before he started, though. I was off to secure cooked meat. The only kind of meat right for a country boy like me: bar-b-que. Flame Tree to be precise.
Now I love me some bbq. I eat it whenever I get the chance. And the Flame Tree has some downright tasty ribs. If you get a chance, eat them. Lisa had the chicken. I didn't like it so much. I went back to the ribs. Picture it: large bald man hunched over a rack of tasty, chewy, nicely seasoned meat. Don't bother me, I'm eating them again. In my mind.
But once the food was gone (insert whimper), it was off to find dinosaurs. Lisa took the boys to the hottest place in the entire park, the Boneyard. I went to the chiropractor for a realignment. No, wait, that was Dinosaur, the ride. Some family sat behind me. They were trying to convince their poor little girl that it wasn't a scary ride. Folks, look. Children know better than you do what to be scared of. Don't try to convince them otherwise, okay? Just drag their little behinds on the rides that will scare the bejeebies out of them and deal with the consequences later. See referenced part above about my relationship with my Mother.
I liked Dinosaur. And didn't scare my children.
Next was something a little lighter. Bugs. It may be tough being a bug, but it is a long way to walk to find that out. That queue goes on forever. By the way, that's queue as in "q" or "cue" not "cue you". Cute show. No therapy for the children.
Now Lisa wanted to get soaked on Kali. Only one problem, it is a 40 minute wait. And we don't do that. And the FastPass is shut down for the day. So no soaking for her. The boys got to play in the cool little fountain across the way though. And they were happy with that.
It was time to go, then. The parade was starting soon and I wanted to be out of there before it started. So we took off. Just outside the parks we saw Stanley and Dennis (the goldfish – you figure it out). Which is really cool. But our kids don't watch him, so it wasn't a big deal. Sorry Stanley. But I like Dennis. By the way, how come he has a British accent?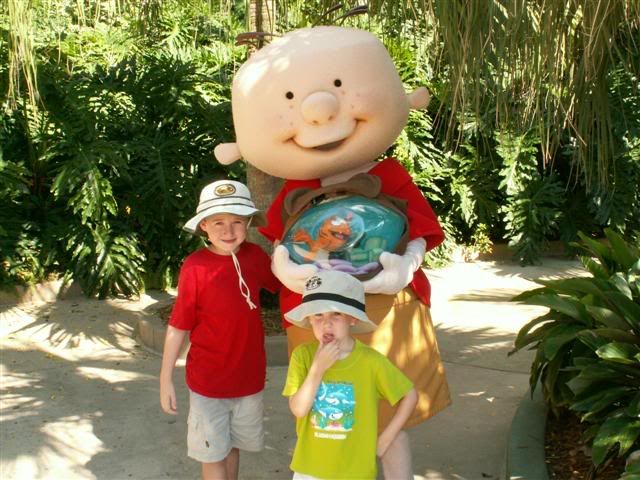 Back to the room to prepare for the night ahead.
But not before this pic. It defied any cute way to set it up. So take it for what it's worth.