That evening was our Spectro/Fireworks night. I wanted the boys to get rested up for it. We got them to lay down for a while.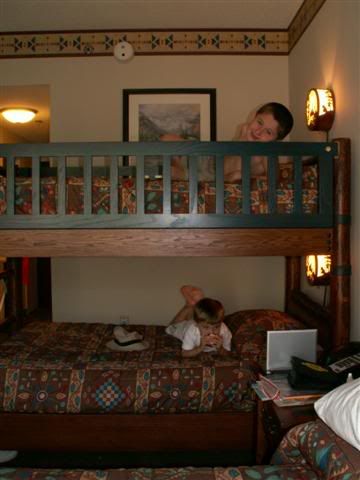 I was all about finding a way onto the internet. But no such luck. It wouldn't let me on. And I was late on posting the next chapter. I need to keep the audience engaged. And Lisa told me to do a post per day. Deadlines.
After resting up, we got ready to head to the Kingdom again. We got on the boat to the MK. But it was later in the day. So we took the LOOOOONG way around. It was the late enough that they were in the park emptying pattern. That means we had to go to Ft. Wilderness and then to MK. I was cranky. The Contemporary boat was leaving at the same time, and it would have us at the dock in no time. We could have been in the park that much sooner. Oh, well.
We did have one blessed moment on the boat journey to MK, though.
Once we, finally, got to the Magic Kingdom, we headed for Hall of Presidents.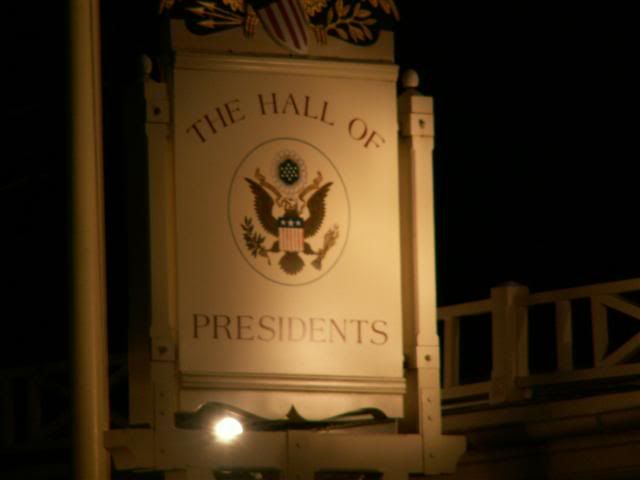 I am a history buff. So this is right up my alley. But what is cool is that #1S loves the presidents. Abraham Lincoln is his favorite. So I knew he would be all over this attraction. He was totally pumped with just the holding area. Then when we got into the show, he was totally enthralled. He sat and watched everything. But especially Lincoln. He wanted to know if I got it on video. I'm sure that will be his favorite memory.
After watching the mostly all dead guys live again, we crossed the courtyard to the Liberty Tree. We ate here last time and had a really great meal. So we knew we wanted to do it again. We went up to the counter, but we were majorly early. About 30 minutes. They sat us without a problem. We didn't even get comfortable on the horribly uncomfortable wooden benches when they called our names. "The Bergberts from the great state of Oklahoma". So cool.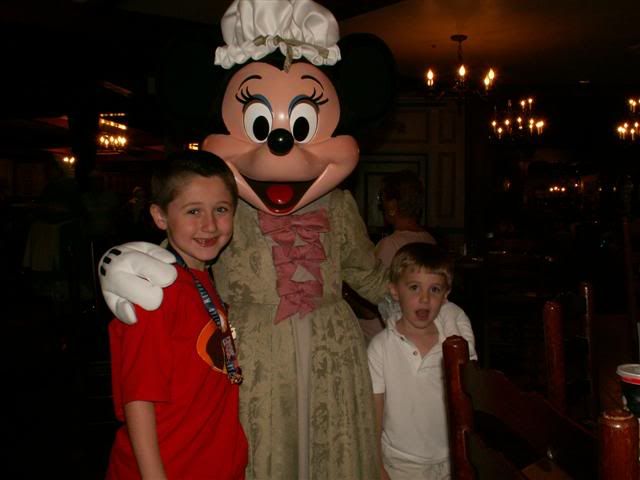 The boys loved meeting the characters. But #2S has an interesting approach to meeting the characters.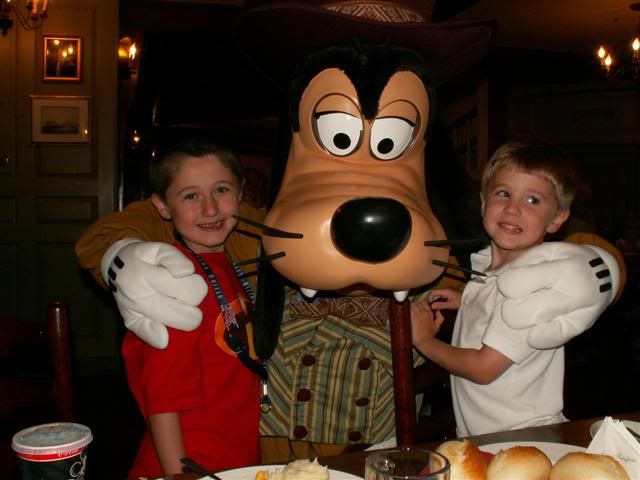 Mom, why is this guy hugging me?
Hey, Bud, can you sign that when you get around to it?
And supper was outstanding. We had a great server, Andy.
Hey Andy! He looked like Steve from Blue's Clues. So that was a bonus for #2S.
But the real "magic" happened when Andy/Steve produced a PB&J that was not on the menu.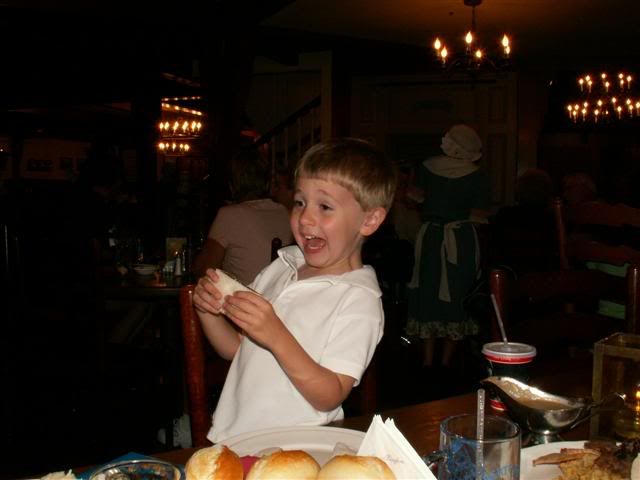 #2S wasn't going to starve after all. Andy/Steve, you rock, dude!
Of course, #2S has problems eating like a normal person.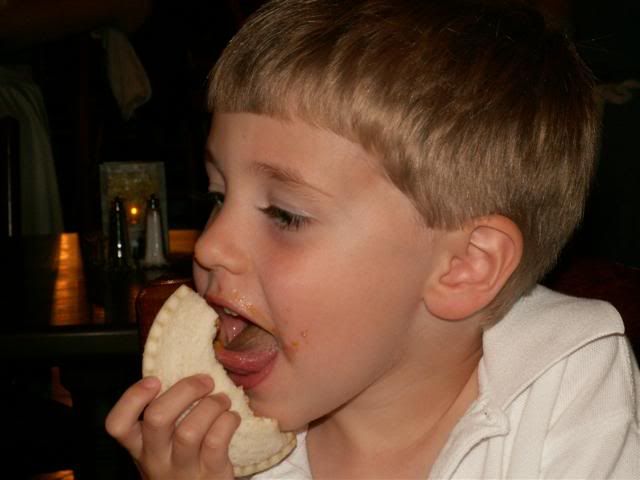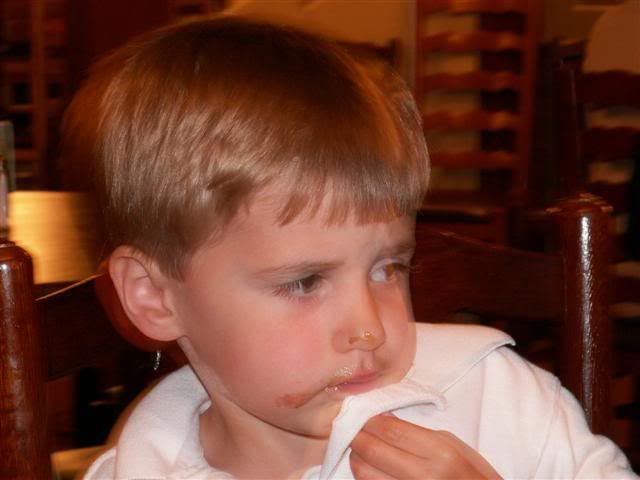 Are you saying there's something wrong with the way I eat uncrustables?
Got a little something on your nose, there big guy.
The weird thing is, this is how he sees the world. A little off center sometimes. He gets it from his mother.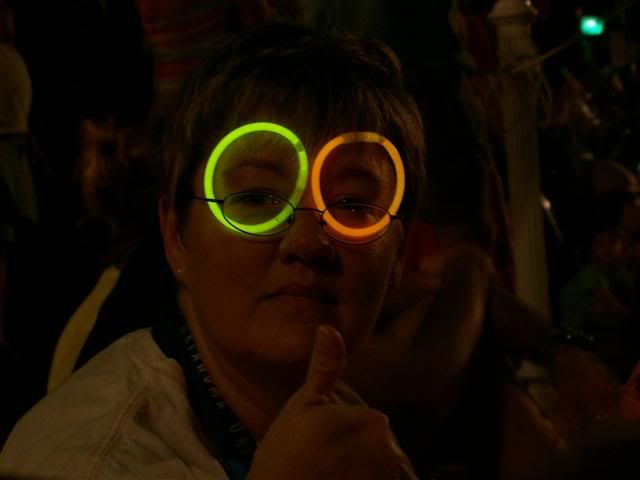 His brother has his fits, too.
We finished supper and stepped right outside for Spectromagic.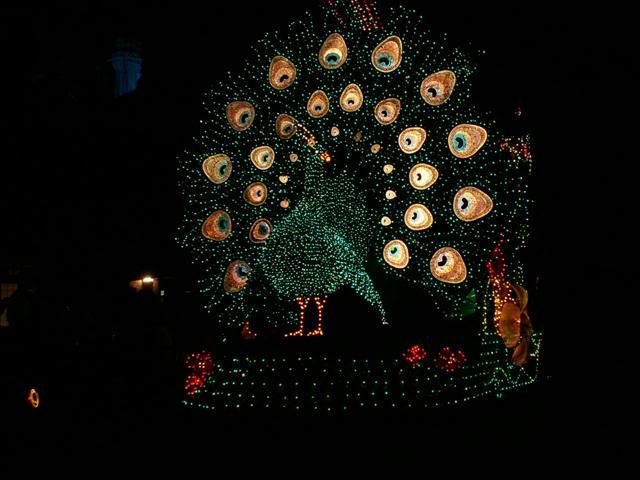 That is a very cool parade, I'm sure. But I'm not a parade guy. So I wasn't like totally blown away. I also don't do Christmas lights. Some of the "oooh" and "aaaaah" gets taken out of it when you have to take those stupid lights out every year and untangle them, then search for the 1 out of 150 that is burnt out then stringing them around the prickly tree. It was a very nice parade. That is all.
We rounded the corner and took one of lesser traveled paths back to toward the hub to watch Wishes. We were off to the side, so we didn't get the "Disney" effect. But it was very cool. I don't like fireworks, either. But this was VERY cool. I liked it enough to say so. And if it moves me to speak, then it was probably very rocking for other people.
Then out through the crazy crush of people. BUT we found a secret, non-crowded way out. But I'm not telling. Of course, it wasn't that crowded to begin with.
Good night, all.