Well it is Tuesday of our vacation, so that means that it is Disney Studios Day.
We all get up and around early enough to get to the Studios at rope drop. There was a great family from Great Britain (by their accent) standing with us. They were getting ready to head over to Indy. At rope drop. I don't normally intrude upon folks' conversations, but I really felt I should help them out. And when the rope dropped, they stuck with us. Like I knew what I was doing. I didn't have the heart to tell them that our plans for two days in a row had been trashed. But they stuck with us.
We got to the street over in front of the ABC Theater and heard the revving of car engine and loud music. It was then that Lightening McQueen came right down the boulevard right in front of us. Very cool. But we didn't stop for pictures. We had a tour through the stars waiting for us.
We got over to Star Tours and there was no one waiting. So we raced through the line. Weird thing, though. There was a family talking with a CM in front of the attraction. They walked up to the roped off line (handicapped accessible line, I believe). Lisa tried to follow them but they pointed us to the right line. Once we got inside the queue, we looked up to see Darth Vader and a Stormtrooper. And the family that was escorted through the special line was taking pics with them. Magic Moment?
We hopped on Star Tours and everyone loved it. Even #2S. But we never made it back to try it again.
After getting off the ride, the boys had to take pictures on the speeder bikes. I love my Star Wars boys.
We headed back to Hollywood and Vine for the Playhouse Disney breakfast. #2S really likes Little Einsteins. (#1S likes it also.) And both boys have a little thing for June (the girl in the purple dress). We walked up a little early and only sat at the table for a few minutes. We were escorted to our table just as Goliath and Leo were coming around. I think Goliath had a thing for Lisa.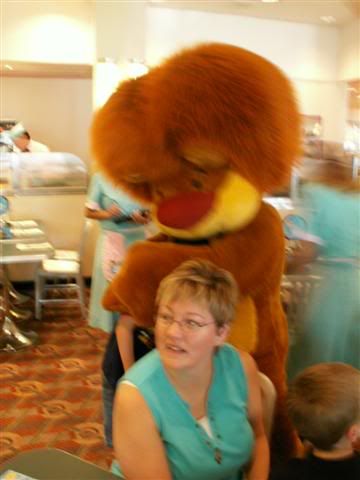 But Leo was received well by the boys.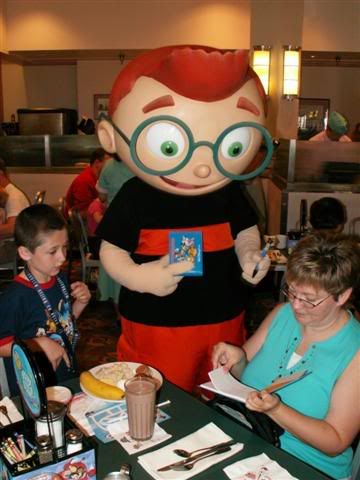 When the Mambo started, we tried to get the boys to get up and do it. Lisa dragged poor #2S around the line. But he wasn't in a mambo mood.
We sat down for breakfast and to wait for JoJo and June. We had a decent breakfast. But I think the boys were too excited to eat. Plus we didn't have very good service. But it was nutso in there. I don't blame her but it would have been good to have a couple of cups of coffee to face the day. We saw Goliath and Leo a couple more times. Finished breakfast. And waited for JoJo and June. They finally made it around to our side of the restaurant. Both boys were very happy to see June.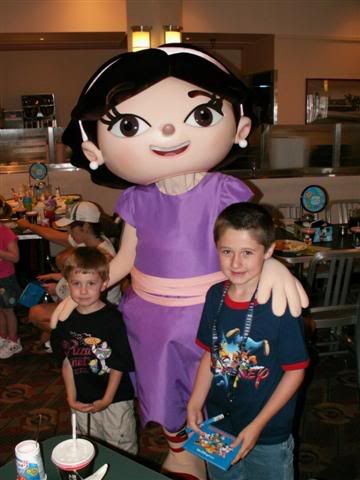 They were also getting into the autograph thing. We originally planned to do a t-shirt for autographs. But that wasn't doable. We got the boys an autograph book each and pens. This worked out very well. They were really looking forward to getting autographs.
We finished lunch and made our way to MuppetVision 3D.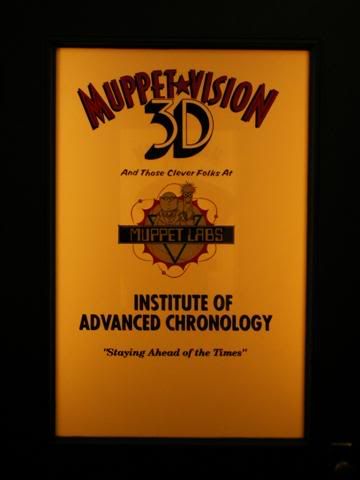 This is Lisa's favorite attraction. She is really crazy about Muppets. So this is always tops on her list of things to do. Last time, #1S didn't really care for the 3D stuff, but he was really into them this time. #2S thought it was funny, too.
We walked around toward Lights, Motor, Action and saw the Toy Story characters.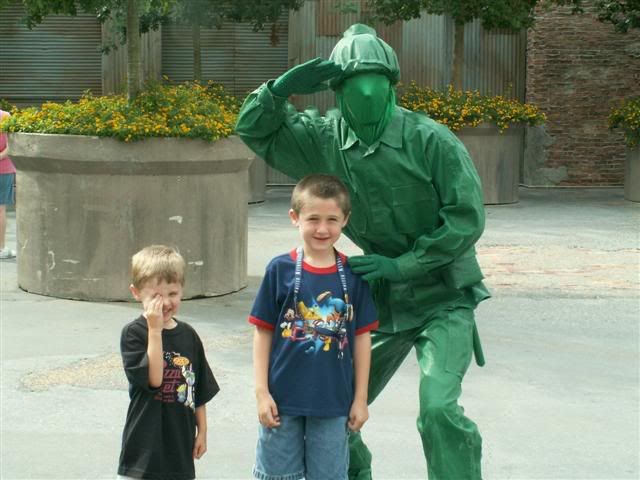 The boys are passed on the Toy Story movies. #1S still has a "baby Buzz" that is his dearest lovey. It was one of the Kellogg's mini stuffed characters. He has loved that thing for years. We have lost him a couple of times and have made serious efforts to find him.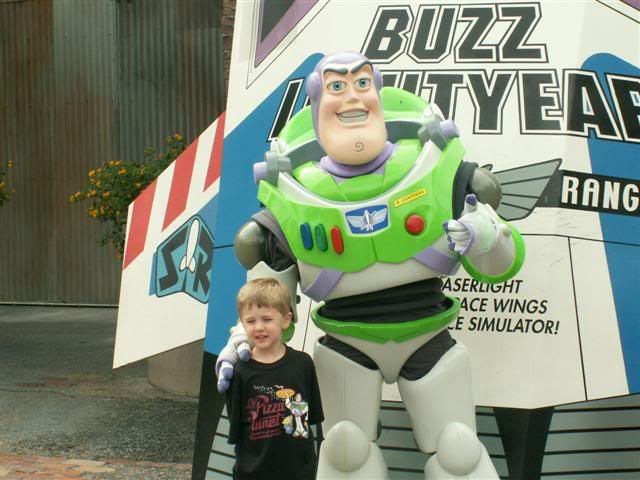 Baby Buzz also provided our first teaching moment for dealing with people who seem different. One of #1S's favorite games with Baby Buzz was throwing him up in the air and then fetching him. One night he tossed Baby Buzz up into the torchiere lamps. It burnt a good sized hole in Baby Buzz's head. We had to teach him that just because Buzz had a burnt spot, he was still the same Baby Buzz. Baby Buzz still sleeps every night with #1S. He is a family member.
Okay, that was too mushy. We need something really active. Hey, how about the great French import, Lights, Motors, Action. We had heard the Power Rangers music down the road and wanted pics with them. But we missed them. But CM's were waving frantically to get people into the show for LMA. So we headed down the line.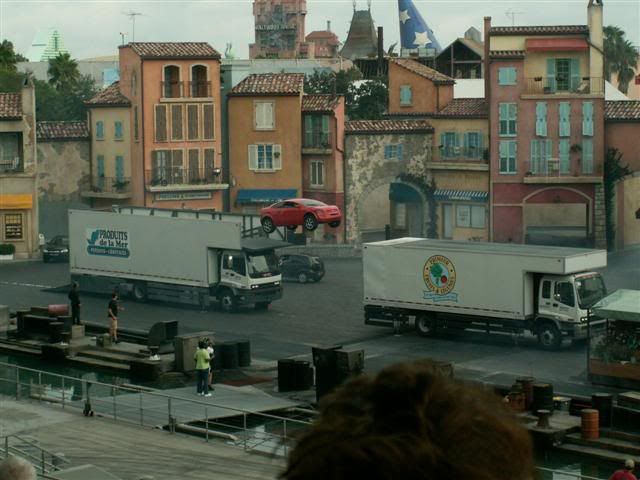 It was cool to watch the cars and stuff, but I just don't get why this is so popular. Just my opinion. It was kind of neat to see how they had different cars doing different things. It didn't really do much for me.
After getting out, it was time for the Power Rangers again. Okay, I admit. I like Power Rangers. I started watching when it was Mighty Morphin Power Rangers way back in '93. I have watched many of the incarnations through the years. I really liked Ninja Storm.
DinoThunder and SPD were sort of a joke. I haven't watched much of Mystic Force, but it looks decent enough.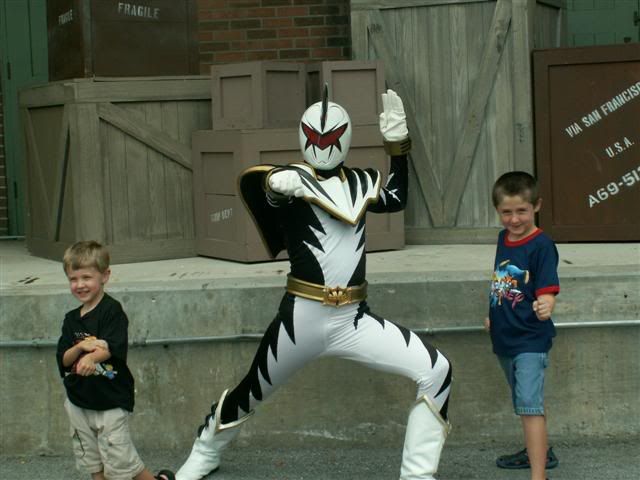 But the boys like the Rangers. So we had to get pics with them. And we did. Every Ranger but the Pink. They didn't want a picture with the Pink Ranger. I took one anyway.
After getting done with the Power Rangers we went to see a different hero: Indiana Jones. You know what, I'm not that impressed. I saw it last time. There wasn't anything different this time, except actors. But a couple of things to observe.
The cast of audience participants was the mixture of the hyper excited types and the completely clueless with the ringer. But one guy was hyper clueless. And he had just sat down next to me when he was picked. This guy was a hoot. And his girlfriend/wife couldn't be more proud. NOT! But he was the funniest in the whole clan of audience participants.
There was a major lack of Disney attention to detail. There is the third major skit where the plane comes around the bend. It's the climactic scene. I believe that what happened was probably politically correct but grossly inaccurate on a couple of levels. Some of the German soldiers were females. Obviously female. And the pilot who got out of the plane was African-American. The last time I checked, the Luftwaffe did not recruit anyone but white males. And the actor in the movie was also this race and gender. And the German army, much like every other army in the world, did not put women on front lines in combat fatigues. Yes it is picky. But come on.
These are obvious problems with detail.
Lastly, some people have no concept of reality. No, no, no, not #2S. He has a concept of reality. It is just not normal. Some people are completely clueless. Overheard from audience participants, "Yeah, those were the real stunt people on Indiana Jones." WHAT? Are you for real? You fell for that line? People, come on. Let's get with the program. These people did not even work on this attraction 3 years ago. The big German mechanic was a Polynesian.
Rant over. I feel better. Thanks for letting me do that.