This was the day that 3 of the Bergman family was looking forward to. This was Epcot day! Lisa was excited about the day because she was partially fulfilling a dream: getting up close with a dolphin. #1S was excited because he was getting a new toy: Pal Mickey. I was excited because I was getting to go to Epcot: my favorite of all Disney parks. #2S was just there. And would get worse as the day went on. Dumm-dumm-duh-dummmmm (in a deep, foreboding way).
Well we were all up and at 'em relatively early. Just because we needed to get away. But only to the Mercantile. See, we are fairly clear on money issues with our boys. We work their little behinds off. But we pay them. And the months leading up to Disney, they had worked hard. Plus they got a little bonus before we left. We also set some rules.
Rule #1 – no junk (even if it Disney). This meant no plastic spinny-whrily-lighty-uppy thingy's.
Rule #2 – no buying anything until the third day. If they saw something they really wanted, we could go back and get it.
Rule #3 – mom and dad have complete veto power. There's no way we are buying an extra seat for a life-size Mickey plush. Other than that, they were free to buy what they wanted.
#1S had been reading about Pal Mickey. On the bus signs. And in the stores. And he decided that was what he wanted. A $60 talking stuffed animal. But he justified it very well. Pal Mickey doesn't just rattle of nonsense. He gives information. And #1S loves information. That was his justification. Pal Mickey is an information source. Okay. We let him get it. But we have one rule for Pal Mickey - #1S has to cart the thing around. Doesn't go on daddy-mule.
We head off down to the Mercantile for #1S to become the proud owner of Disney merchandise. And it takes forever. Because the Pal Mickey that was first selected had performance anxiety. Once he was out of the box, he just sat there and shook. And shook. And shook. No talking. Just shaking. If he had been in front of a large group of people, he might have wet his britches.
So the CM took the first Pal Mickey back to the back for his therapy group and grabbed another Pal off the shelf. This one was ready to go. So he did. With us as we headed out for Epcot.
I would like to tell you now about the lovely trip we had to Epcot. How beautiful the morning was. How peaceful the ride was. But I can't. Because yours truly botched the transportation again. We thought it would be cute to hop on the launch over to the Contemporary. Then catch the monorail over to the TTC, switch to the monorail to Epcot, and arrive from a smooth, easy trip. Except that we missed the boat. Just missed the boat. Poor anxiety ridden Mickey had caused us to miss the stinking boat to the Contemporary. So we stood. And waited. And grumped. Now, once the boat arrived, we had a lovely trip. Made all the more lovely by the fact that when we got to the TTC, there was no one around. And we were head of the pack. So you know where we went, right? Hey monorail attendants, front car available? Yep, it was.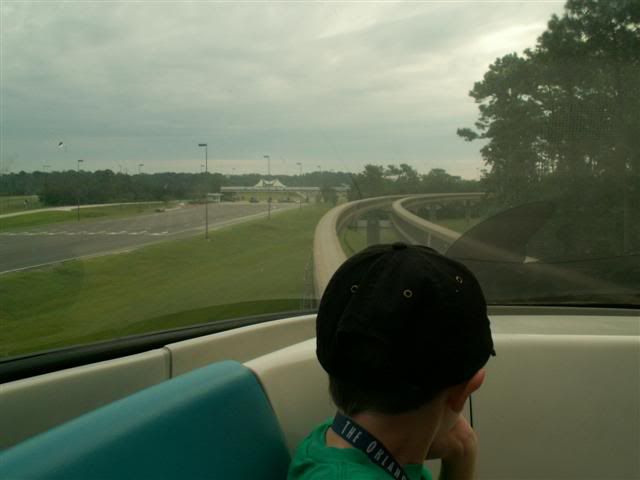 We arrive in style in the front. We got our co-pilot licenses. And we head down the ramps to Epcot.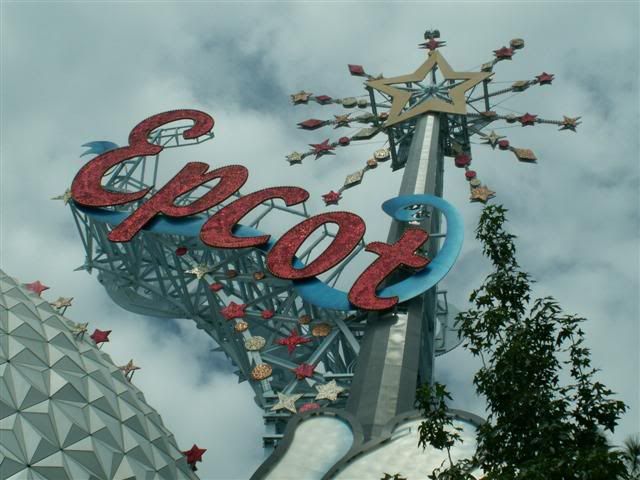 Now we have one order of business. Lose the woman. We dump her very callously at the Guest Relations window and the boys had for the gate. And like so many before us, we have one destination in mind: Soarin'.
I didn't know how #2S would do with this ride. I wasn't sure how #1S would do. But since I wanted to ride it, they got to go also. We grabbed some FastPasses for later and hopped on line. Woooosh! Right up to the front. They boarded the last flight just as we got to the front of the line. The CM was really sweet with the boys. And she promised us front/top row seats. So we got the front. I strapped both boys in and get #2S ready for takeoff with encouraging words. But he has found a friend next to him. Oh well. I turn to #1S and tell him to take his shoes off. We are going barefoot over California. And we took off.
Both boys loved Soarin'. They wanted to do it again. But with Mom. And that is why I got the FastPasses. Now they both could ride with her later.
After we land and recover our shoes, we head over to the Nemo museum. Oh yeah, the Seas with Nemo. The Attraction Formerly Known as The Living Seas. As if the ocean needs an animated character to draw attention to it. But that is personal interjection.
We were on a mission to converse with Crush. And since none of us speaks turtle, we went ahead and got in line for the show. Although I must say that #2S speaks whale very well. He practices at the water park. In Tulsa. Cause, you know, Oklahoma has a lot of whales around. But we went in to watch Turtle Talk with Crush. And it was a riot. Very funny. And cool technology. But neither of my boys was very interested in engaging Crush. So they sat there.
Once I collected my yutes from among the herd of yutes in the floor, we wandered around the Seas. We saw the shark play area.
We toured the exhibits.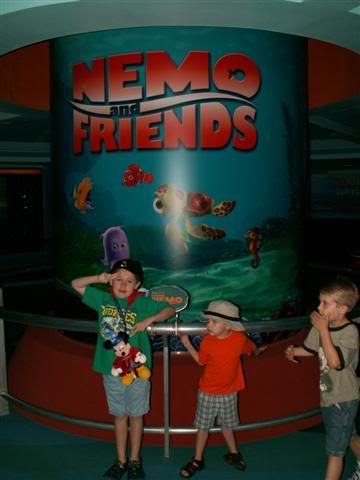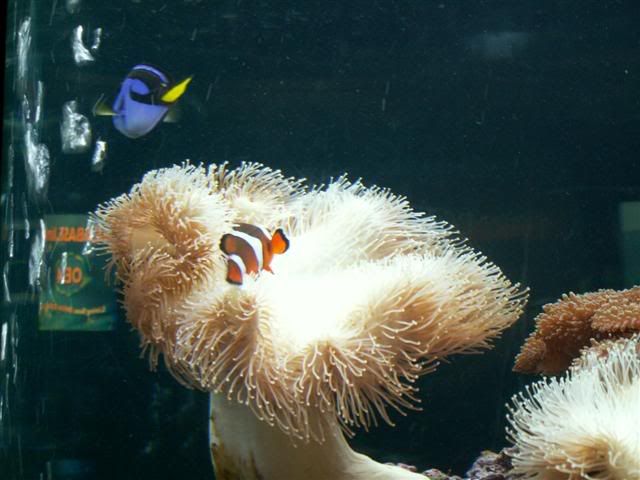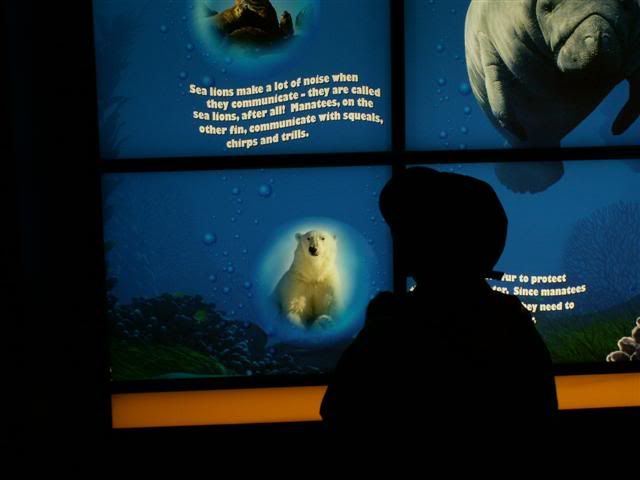 Then we went into the big tank viewing area. They were about to do a dolphin training exhibition. And then I saw her. My beautiful wife. No, she wasn't in the tank. She just walked in and watched the show with the rest of us. But I left early, because I knew what would happen if #2S saw her. So we went to tour the rest of the exhibits. #1S found the Kidcot area and was coloring a shark or something. #2S didn't want to participate. He was having separation issues from his momma. And who should appear right then but Lisa. She was on her way through the area to a backstage area to see the dolphin. And #2S saw her. And began to cry. And that was the end of that. We left the building. He didn't want to do anything with me. He only wanted Momma or to go back to the hotel. I don't play that. You will have fun whether you like it or not!
I drug….no, I calmly took him by the hand and gently led him to Innoventions. Hopefully there was something for him to engage in over there. Well, we found some games to play. But there wasn't much to preoccupy an emotionally dreary 4 year old. So we headed over to Club Cool. When it was Ice Station Cool, #1S thought this was the coolest place at WDW. Now, they just have free Coke products. But it lost the coolness factor of the Ice Station. And if you didn't get that the pun was intentional, you might want to go back and reread from the beginning.