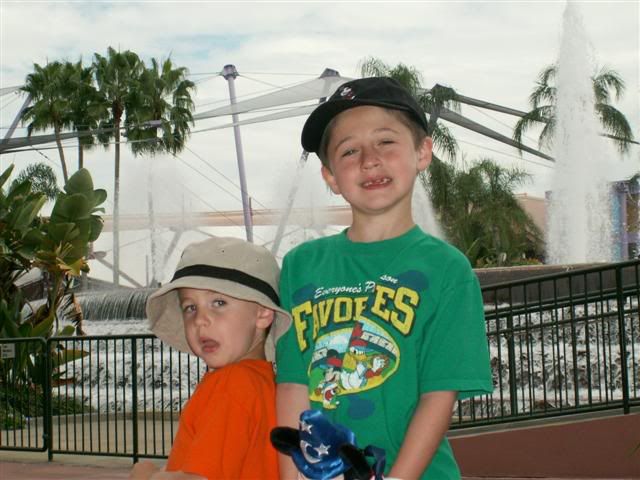 After sipping a free Coke or three, we headed over to the other Innoventions. #1S did Kidcot.
#2S played among the trees. And we went around to play on the kid computers.
And we killed time. Lisa was due out between 11:30-Noon. Well it was getting mighty close to that time. So we went out to the most likely place to meet. And we sat out there for about 15 minutes when tragedy struck. Pal Mickey was nowhere to be seen. He didn't make it out of Innoventions. Because #1S had taken his Pal from around his neck to color. And that was where Pal Mickey stayed when we left. Luckily, Pal Mickey was having a little nap in the same place when we went back. And I stapled Pal Mickey to #1S's neck. Not really. I didn't bring the staple gun. They wouldn't let me get it past the security gate. But I did tell him to leave Pal Mickey around his neck. And we went back out to meet Lisa.
And waited.
And Waited.
And saw this lizard running around.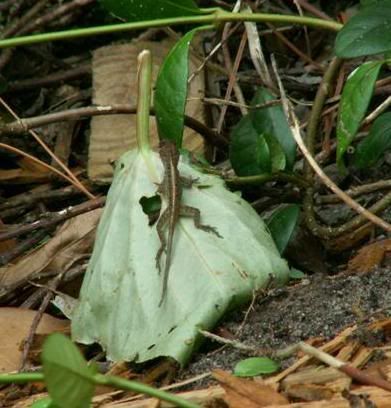 I was getting a little cranky at this point. We had lunch planned at La Cellier. And the schedule (we don't do plans anymore) said it was close to time to head over there. Lisa comes bopping under Spaceship Earth like she doesn't have anywhere to be. I'm chomping at the bit to get over to Canada. I'm wanting some grub. Even if it is foreign.
So we head over to Canada and I go in to announce our presence. And find out that we are almost an hour early for our ADR. I had dyslexyed the time. I thought it was 1:05. It was really 1:50. So we took the kiddies over to the Kidcot to kill a little time. #1S had fun coloring what he pronounced was his tiki. Then started swinging it like a battle axe. #2S colored a little bit, but quickly retreated when a squirrel asked to use his crayons.
Well, the squirrel didn't really talk. But the squirrel got a little too close to him. And he went nutso. Just like the toe eating ducks at MK. I didn't realize he had a problem with squirrels. But he's never been this close to one. Squirrels here in Oklahoma know better. If you get to close, you might be the guest of honor at the dinner table.
We killed about 15 minutes. But we didn't kill the squirrel. I figured we paid for free dining so they could kill, clean, and cook our food. No sense making more work for ourselves. And I went up to get us into the cellar. For those of you who don't know, La Cellier is a cellar. Just a fancy one. With pretty good food. I went a little more high class than normal. I ate the raw fish and crab salad with fancy cream cheese. Then I had a barbecue sandwich that had the coleslaw on the sandwich. I think maybe next time I'll have a steak. Overall, the food was good, it just wasn't what I wanted. So I left full but unsatisfied.
We wandered around to Journey into Imagination with Figment. I remember Figment from 1984. It was a happy memory. It was nice to see him again. And the Journey was kind of fun. Except we broke the ride. It stopped. The lights came on. And we sat there for a few minutes. Weird, hunh?
After we exited the seriously over crowded interactive area without interacting, we went back to the Land. It was time for Lisa to enjoy the feeling of flight. So she took the boys and the FastPasses and flew on Soarin'. She liked it. The boys liked it again. I stood outside and waited. This is getting to be a theme today. And I don't like it.
As soon as they hopped off their flight, we hopped on the boat. Living with the Land was one of #1S's favorites last time. He has more of a green thumb than anyone. He loves plants. And he loves information. He also loves to drink soda. And he did at lunch. And at Club Cool. He had a lot. But we didn't realize it until we got on the boat. And he started doing the shivers and shakes. I'm filming all of the great scenery when I recognize what we call in our home "the pee-pee dance". "Do you need to go the bathroom" as quietly as possible. "Uh-huh" nodding his head. "Well you are going to have to hold on until we get to off the ride." "Okay."
We had just gotten into the greenhouse when this exchange took place. And some of you know that this is not a short ride. I felt badly for him. But as the ride was ending, I turned to him and say, "You gonna make it?""no" with head shaking. And he didn't. Poor guy was heartbroken. And I was for him, too. But we didn't make a big scene, I'm proud to say. I took the boys to the front of Epcot to get a stroller while Lisa went to get new clothes. Cause she decided we weren't going back to the room.
And just in case you think I am one of those horrible people who just leaves the mess behind, I did inform the cast members of the incident. Now if they didn't clean it, I'm sorry your bum got wet. But just so you know, mine did, too. And I didn't get new clothes. But those dryers work great in the restroom.
Once we got the stroller, we parked it. And rode Spaceship Earth. The Big Ball. Last time, #1S was totally freaked out by this. I have no idea why. But he was terrified of going up into the ball. This time, we all rode it and enjoyed it very much. I think it is one of my favorites. Mostly because it is slow, dark, and cool.
We stepped back down on earth and grabbed the stroller. #2S finally gets to ride. We head over to Universe of Ellen's Energy. I remember way back when this was just way cool. The coolest thing was that those great big ride cars ran on just a little sliver of a track. I look at it now and it was just kind of slow. It had its moments of funny. But it was a cool distraction. Only in the sense of air conditioned.
After traveling back in time, I wanted to travel into space. I wanted to ride Mission:Space. We decided that, since we couldn't do it as a family, and my life insurance wasn't quite enough, we would skip it. And skip right on over to Mexico.