I believe I said somewhere many, many pages ago, that I love the World Showcase. I could spend two or three days here. And we started with Mexico. I think it is just cool. I said that somewhere, too. But it is an awesome pavilion. We wandered in and took a picture by the fountain.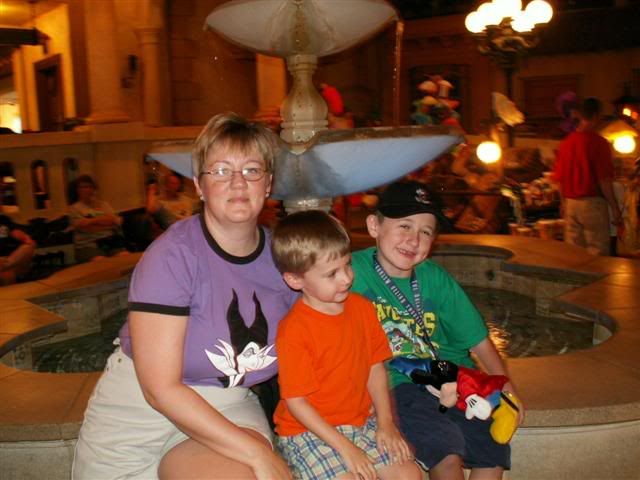 We walked by the mariachi band. And headed straight for our destination: el Rio del Tiempo. I hadn't been on it since 1984. Not much has changed. And the boat got stuck again. I asked #1S if he broke the boat.
After we got out of the boat, we exited Mexico. NO I didn't eat any Mexican food. Because I knew we would get around to American Adventure. I didn't want to miss it again. Because of the same reason as the first time.
Next we entered the virtual homeland of the Maelstrommers: Norway.
For you blogsters, Lisa and I connected with a group of people on the internet who share in the passion we have for DisneyWorld. We have shared jokes and laughter. We have talked on the phone. We have even ministered to one another at times of pain and sorrow and just general funks. We name ourselves Maelstrommers after this pavilion in Epcot. More specifically, a ride in this pavilion: Maelstrom.
This particular day, this ride took on new meaning for us. It is sort of like a Pirates of the Caribbean with trolls. And polar bears. And oil derricks. It's fun in a simple way. Or I'm simple in a fun way.
But we knew we had to ride it in honor of our Maelstrom friends. But we got stopped. No, it wasn't a broken down FastPass machine. It was a Norwegian CastMember. And he looked like he had something to say. So we stopped to talk to him. His name was Fredrick. He was a nice guy. Very friendly. And he was looking for honorary Vikings. To have a special ride on Maelstrom. And guess who stopped to talk to him to get this special honor. The Bergberts. Right to the front of the line. But we didn't get to get on the ride right away. The trolls knew the Bergbert boys were coming and broke the ride. (That's 3 rides that broke down when we came close. For those playing the home game edition.) But the next ride out, Fredrick set us up with our own boat.
While we were waiting he helped #1S find hidden Mickey's. Which was very cool. And we rode the maelstrom all the way to the end. And we got an honorary Viking magical moment certificate. I didn't have the heart to tell those good people that our family was already a Viking family. But now we have papers.
We headed through the shop and had to take the obligatory Viking and troll pictures.
And then made our way to China.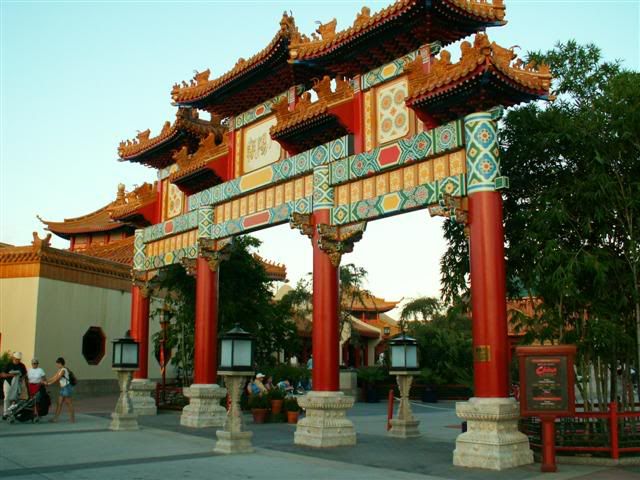 There is a new exhibit in the Chinese pavilion. And it happens to be one of my favorite subjects of Chinese history. I'm not an expert in this, but I find this very fascinating. This ruler died. And when he died, the people created an army of soldiers to be buried with the ruler.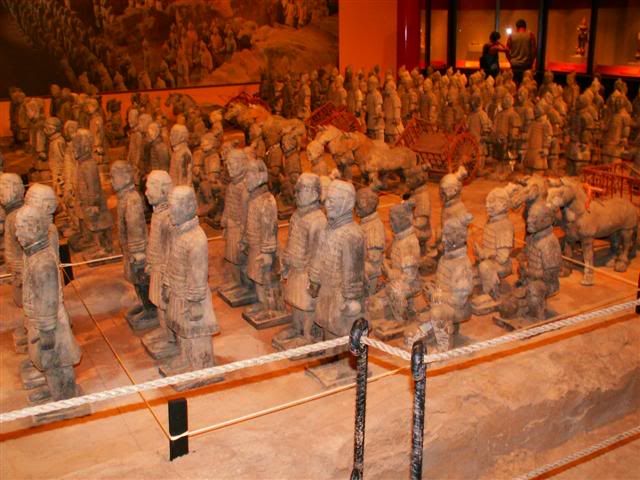 Each soldier was unique. They had different facial features. They were individuals.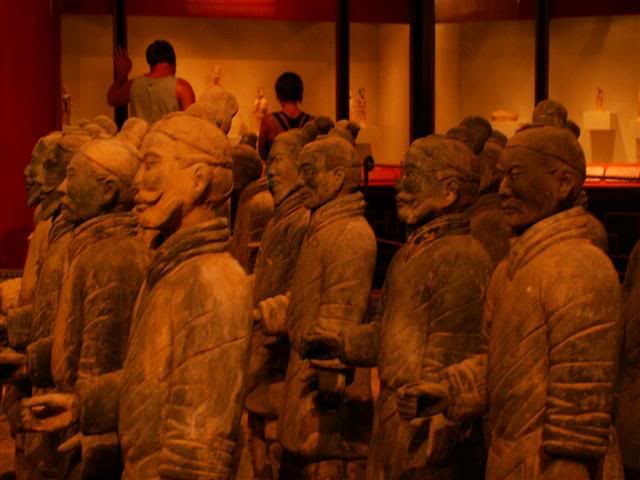 And there were thousands of them. Along with horses and carts and weapons and all kinds of stuff. I just find that totally awesome.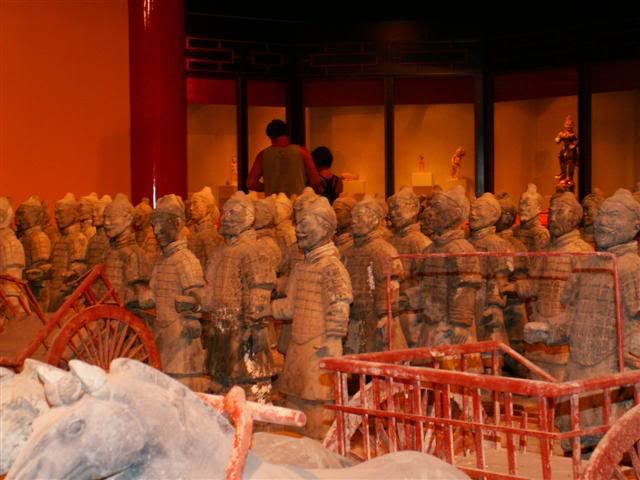 We left out of China and walked by the African drummers, the German pavilion (ummmmm, sausage), the train display, and Italy. We didn't stop to really look at much along the way.
We were headed for the American pavilion. Home of hamburgers, hot dogs, and funnel cake. At this point, that was about all the boys were focused on. They wanted to eat. So we pitched camp at one of the tables while Lisa rustled up some chow.
I sat there looking at that building
knowing that one of my most embarrassing moments happened within its walls. I also knew that one of the greatest exhibits of audio-animatronics was presented. And the last show of the day was starting in 10 minutes. So decision time. Do we cram those tasty morsels down the throat of our boys and hope they don't choke so we can see the show and miss seeing the rest of the world showcase? Or do we skip this show, catch it later in the week, and wander the rest of the pavilions? We opted for the latter. We had plenty of time to get back over here. Let's just take it easy and wander around the rest of the countries.
So we headed off around the lagoon to see the rest of the world. We swung through the Japanese pavilion. This is my favorite outdoor pavilion. I love Japanese culture, art, history, architecture, and atmosphere. If there is one place on earth I want to see before I die, it would be Japan. And I would love to see all of it. Not just Tokyo Disney. #1S likes Japan also. I never get enough time here. It is just beautiful.
Speaking of beauties. The next stop on our little jaunt around the world was Morocco. And what do you know. The very first sounds and sights we have are of the band Mo'Rockin. Although we didn't get to see the belly dancer do her thing. They just finished the set as we walked up. Sorry MarkyMark, no pics.
France is….France.
We didn't get time to swing through the toy store in England. I could see Tigger in there, but I had a sense about something. It was hearing. I heard the classy and moving sounds of music. My favorite Epcot music. And it was coming from Canada. And I saw a crowd. And I knew it was my favorite band in kilts: Off Kilter.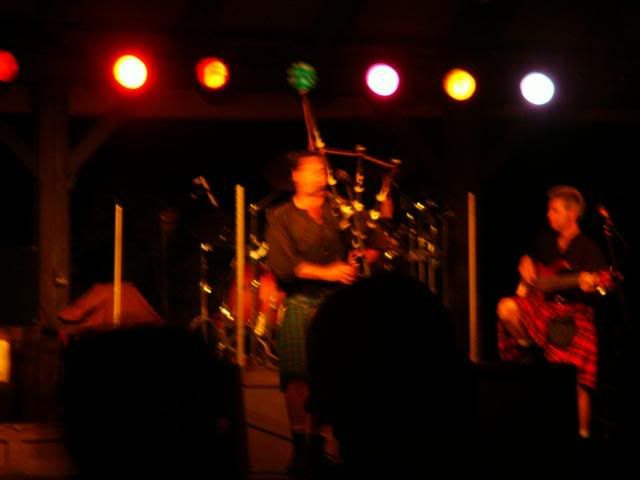 and that was the best pic I got (sorry Horsey)
Now, let me say for my Canadian friends, that I love Canada. Not just the pavilion, but also the country. This is my third favorite pavilion. I don't know what it is. But for some reason Canada is….comfortable. Kind of like your favorite sweatshirt. It just feels right. And some of my favorite things are from Canada. Red Green. Due South. Celine. William Shatner. Matt Frewer. Celine. And Off Kilter. Yeah, I know it is all pop culture stuff. But they really have some cool people in Canada.
So anywho. I forced marched my family from France, through England, just to make it to Canada to hear the last few sounds of Off Kilter. This is an international group of musicians who play Celtic Rock. And they use the bagpipes as a featured instrument. And all the guys where kilts. They are so cool. #2S thought they were so cool that he jumped out of the stroller and started doing a reel. That's a dance. It was very spontaneous. And he was enjoying himself. Until the music stopped. Then, like a little music box ballerina, he stopped. And sat back in the stroller.
We checked out the stuff cart. Not to be confused with StuffMart. That's because, while Bob and Larry are from up North, it's not that far North. But I was looking for my next Off Kilter CD. And the boys were being entertained with some weird fan belt on a handle spinny-lighty-uppy thingy. Well, they were masters at it and got certificates for crawling through the hoop, or something. Hey, it entertained them so I could look at the music. But I didn't get a CD.
It was getting about time for Illuminations by now. People were lining up. And we were not staying for it. I hear the collective gasp. Sorry. Lisa declared it a little on the dull side. Hehehe. Take it up with her. For me, it's just not moving. I think it may be a little too abstract for me. I do abstract. But it doesn't speak deeply to me. Mostly because I stand up to watch it and get a little tired.
So we headed toward the house. But we took the bus. It was quicker.