Epcot was a tiring day. We spent all day without the break back at the resort. But the boys did great. The stroller helped for #2S. But everyone was tired that next morning. Thus we skipped EMH (that's Extra Magic Hours) at Magic Kingdom that next morning. Everyone slept in a little. Even me. I didn't get up until 7:00. I had been getting up at 6:30. That was so I could get up, get ready, get coffee. In that order. Although up may be relative when speaking about pre-coffee. Or pre-Nescafe.
When I got back to the room with my coffee-like substance, Lisa was up and around. And not happy. She had a sore throat. She was complaining the day before about a scratchiness. But she had been popping acetaminophen and cough drops. No problem. But today it was a little more persistent. But we all ready to go and headed out to the Magic Kingdom. We left about 8:30. Hopped the Contemporary launch and grabbed the monorail. Without all the details involved – it took us 45 minutes to get to the MK. It was quite a pain to travel.
As soon as we got into the park, we saw characters around the Town Square. We only bothered to get pics and 'graphs with Pinocchio and Gepetto.
The boys were excited about meeting them. Which is cool. By this point they were up to meeting any character. But the weird thing is they had never seen Pinocchio. But they wanted pics and 'graphs.
Lisa was hungry, as were the boys. So she wanted to drop in by the Main Street Bakery. I had the stroller to guard. So I stood out on the street to watch the Main Street Dancers. And I waited….. Again. One interesting thing I witnessed standing out there was the Cookie family. No cookie was not their name. I had no clue what their name was. This family was sitting on the curb in front of bakery (presumably waiting for food from inside). Some kids came out and joined the rest of the clan out there. Then I saw a Cast Member in "bakery" costume followed by a couple of "official" types. The odd thing about this CM's costume was the very large chocolate chip cookie sitting on top of her hat. It kind of looked like a flat Gibson Girl-style hat. But it was a cookie. And I know what cookies look like. She walked out and presented the family this large chocolate chip cookie. To go along with all of the other sugary, fattening treats they purchased in the bakery. A little magic for them.
After Lisa and boys came out and we picnicked, we headed for ToonTown. For some reason, #1S was all in a tizzy about going to ToonTown. But we wandered over to Mickey's place.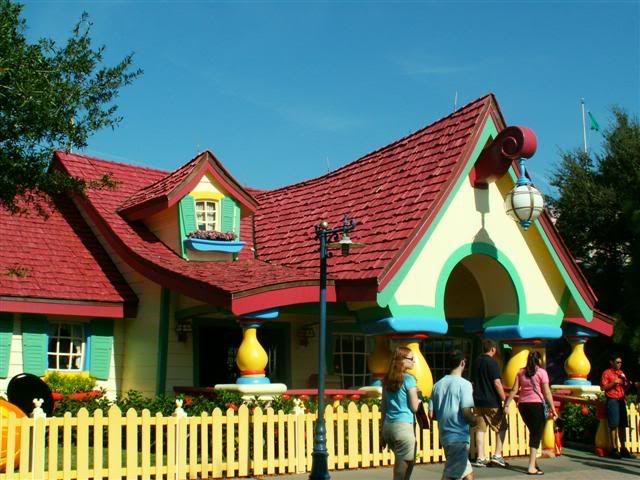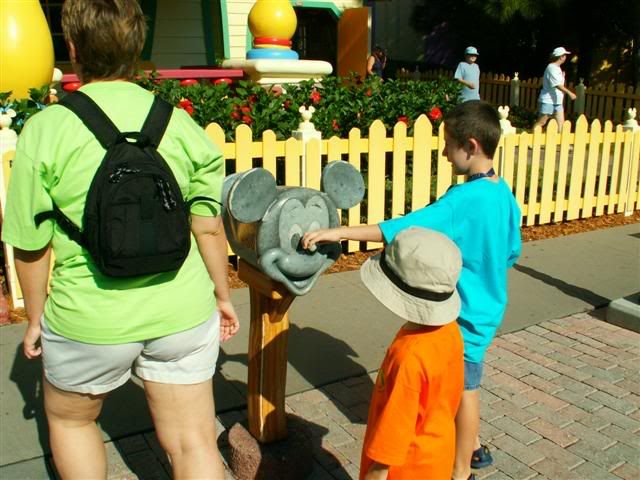 The boys wandered through the house. They looked at some of the sights. But they were focused on meeting the Mouse. We got back there and met THE Mouse. And had pictures.
Then we headed over the Minnie's house. Here, the boys looked around, but just weren't excited about Minnie's stuff. Although I did see that Minnie had a Viking in the closet.
The Judge's Tent held the chance to meet more characters. And as I said, the boys loved meeting and greeting characters. We hopped into line for the "classic" characters. The lines for the princesses and the others (I can't seem to remember who they were) was atrocious. The classics was very short. So we zipped up the line. And waited. Again with the waiting. We stood there forever. And Lisa was getting cranky. She wasn't being mean. But she just didn't feel good enough to deal with this waiting stuff. So I knew she really felt bad.
We got in to see the characters. And we met Donald, Chip, and Dale. Chip and Dale had a good time messing with the boys. They must be related somehow.
Notice Chip attempting to choke #1S with his Pal Mickey.
After dealing with the line in the Judge's Tent, Lisa had reached her line quota. She didn't want to have to wait for anything else. I was now quite familiar with the Waiting Attraction. But since she was not feeling the Magic, I let that go. We headed over to Fantasyland to hit #2S's favorite ride, Peter Pan. But the line was a little longish. See above note about Lisa. So we explained that we were going to get a piece of paper that said we didn't have to wait in a long line and then ride some other things, then come back. He wasn't satisfied. He knew that was a lie and he would never ride Peter Pan again. He goes for the drama.
We grabbed our FastPasses and took in Snow White (another favorite) and Small World. We still had a lot of time before we could ride Pan.
The lines were moving quickly on those other rides. We wandered around the dump shop at Philharmagic. We grabbed some what nots and doddads.
Actually I grabbed a handy little whatnot – a Philharmagic FastPass holder. I was able to keep my Key to the World card, PhotoPass, and FastPasses in there. And I didn't have to dig out my wallet. Very handy indeed. And it was the cheapest FastPass holder I had seen.
As we were paying out, we saw Peter and Wendy finishing up a Family Magic Tour. But they disappeared before we could meet and greet. Instead, we used our FastPasses and went to Neverland.
After we returned to jolly old Orlando, we headed to Frontierland. Lisa was having an internal struggle. She really wanted to do Splash Mountain. But she also felt that it might make her throat feel worse. So we vetoed getting soaked. But along the way to that decision, we encountered a wily brer patch inhabitant – Brer Fox.
He was messing with folks and ducks. Seems Brer Fox was feeling a might bit peckish. He kept chasing after the ducks. Wonder if he likes duck confit?
We finally got around to our destination: Big Thunder Mountain Railroad.
If you are new to this report and have not read the beginning of this epic journey, it may behoove you to return to about part 5 and read about one of my embarrassing moments. It involved a runaway mine train coaster. And it left me with a lasting fear of coasters.
But I believe that if you are going to have fears, you must face them. It is something we are trying to teach our boys. If you are afraid of something, don't let it control your life. Confront that fear and lead your own life. If you would like to hear more, order the current sermon series I am preaching.
We hopped on Big Thunder Mountain Railroad and I will be honest with you. I was not the least bit afraid. No fear. No butterflies. No nothing. I loved this ride. #1S wasn't so keen on it. I was totally into it. I was raising my hands and laughing. I told him to put his arms up. He had a very resolute face on. And he said with conviction, "I think it's okay if I just hold onto the bar." Yes son, it is very okay.
Well, the morning sweets and treats had worn off. And the family was feeling kinda like eating again. And there was only one place nearby. Pecos Bill's. It is truly amazing what one person tends to remember versus what others forget. My mind is full of useless information. Trivial Pursuit used to be one of my favorite games. But I tend to remember less than important stuff. But one thing I did remember very clearly was that #2S would not eat anything on the menu at Pecos Bill's. Wifey forgot this little tidbit. So she hops into line and then looks at the menu. Then announces the following, "#2S won't eat anything here." Again, because she was feeling less than magical, I saved the "I told you so" type comments. And we left.