Since #2S would not eat anything Pecos Bill offered, we decided to head around to the Main Street area. I was secretly hoping we would NOT end up eating hot dogs again. I love me a dog . Especially with chili and cheese with some mustard. But I was not in the mood for another one that day. Not when there were so many other tasty options.
We rounded the corner toward Adventure land when Lovey says that according to the handy times guide, Peter and Wendy are soon to appear. #2S, if you haven't guessed, loves Peter Pan. So we knew that was a must do. I made the executive decision that we should do the Jungle Cruise. It's hokey and cornball. But it's really fun. And the boys were really digging it. It wasn't memorable. But it was a fun romp down the grand rivers of the world.
Then we backtracked to the Peter Pan/Wendy meet. There is a look that people get when they meet someone whom they idolize. It is a look unlike anything else. And it is a look that cannot be repeated. It is a reflex. #2S had that look in his eye the moment he saw Peter Pan standing there. He was oblivious to everything else in the world. Or the World. He couldn't stand in the line with Lisa. He wasn't looking at anything else but Peter. Lisa finally got his attention away enough to tell him to get in line to get his autograph book ready. It was a happy moment for our little guy. It was in a small way magical.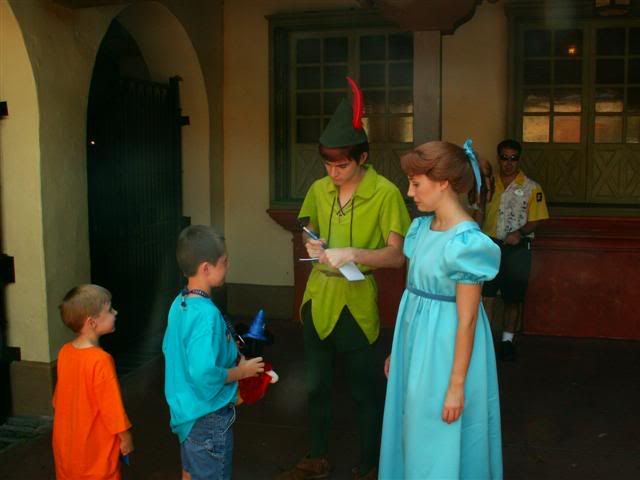 Well, you should know that if Peter Pan is around, that codfish Captain Hook and his pal Mr. Smee should be near. And sure enough, they were out in the plaza just across from Peter and Wendy. So #2S wanted to meet Captain Hook. But horror of horrors that other Disney pirate had also made his presence known: Captain Jack Sparrow. And his mate, Mack, was gathering a crowd of would be pirate lads and lasses. #1S really wanted to see Captain Jack. So it was a matter of divide and conquer. I sent the still camera with Lisa and #2S to meet the infamous Hook. I took the video camera and #1S to see the notorious Captain Jack and his pirate tutorial.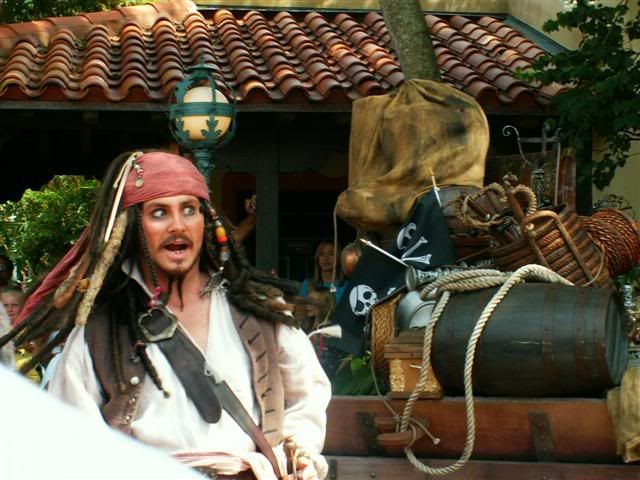 What happened with #2S is only in the memory of Lisa and what the pictures show. You can tell though that #2S is definitely in his element.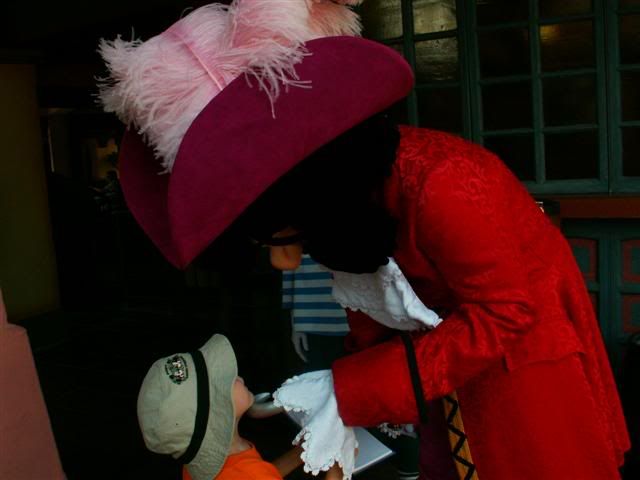 #1S and I got close to the front. But he was not the least bit interested in participating in becoming a pirate. I would think he would love to jump in and fight Captain Jack. But no. He was not going to step out. And I didn't push him. But I was disappointed.
After seeing the famous pirates out and about, we decided to go see the pirates in their element. We rode Pirates of the Caribbean, again. And wouldn't you know it, the ride broke down. Me to #1S: "did you break the ride again?". By now, he is tired of this joke.
We resumed our trek to the Main Street area. There were a couple of items that the boys wanted to get. So we stopped in the Main Street Mega-store. We also went through the store to avoid the parade. I knew that the parade was not very different from the "Mickey in a Fishbowl" parade from the last time we were there. So were going to skip it. But by the time we got everything we wanted, the lines were up and we were caught at the very end of the parade route. The parade ends at Main Street and we were right by the gate. This provided some really cool views of the floats and characters.
After the parade we continued on out the gate. Lisa was feeling horrible. The acetaminophen was no longer cutting the sore throat. She was not having any other problems. It was just a serious sore throat. She couldn't even drink a Coke without sharp pain. She was ready to head back to the resort. So we head back to the Lodge to grab some lunch, get some rest, and send Lisa to Urgent Care.