We got to the Magic Kingdom well in advance of the party.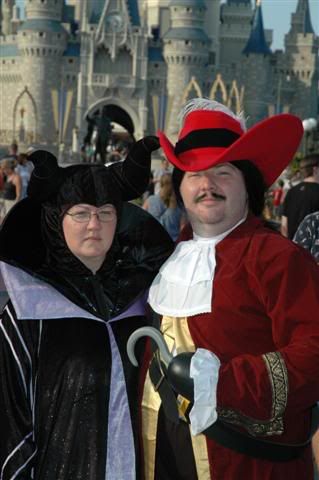 We were looking for supper. We decided to go to Cosmic Ray's.
I'm too sexy for this armor
Nothing spectacular. It's counter service. But I was itching to go do something. Oh, I did make one little kid cry. I walked by the window and just waved. I was friendly enough about it. But the kid was on the way to meltdown. I just pushed him over the edge. It's wrong, but I got a little bit of a charge out of that. I know. Bad, bad, bad.
We left Ray's quickly after setting the child off. And set out to make the youngest of our party happy. We rode Peter Pan. This is the picture. Me as Hook (very unconvincing) and #2S as Pan riding together on Peter Pan. That was kind of fun. Then we went and did something he didn't like. Just to maintain balance in the force. We rode Haunted Mansion. #2S no likey this ride. I covered his eyes while he covered his ears.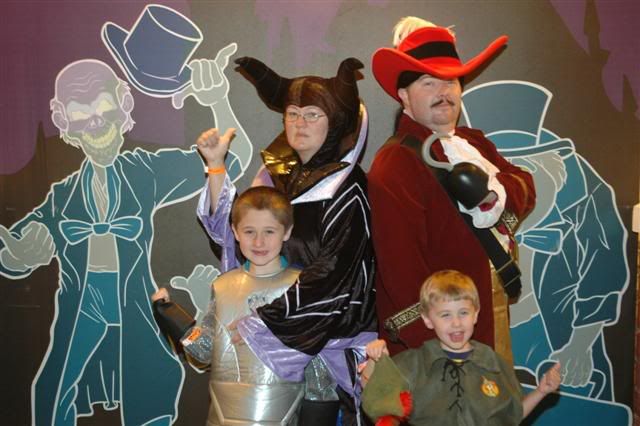 After the Haunted Mansion, it was close to parade time. And I did NOT want to miss the parade. I wanted to see the Headless Horseman's ride. For the Halloween party parade, a Headless Horseman rides a real horse the entire parade route. This is cool to me. I don't know why. So I wanted a decent seat to see it. When we got to the parade route, people were already at the ropes. So we grabbed the closest opening and got ready for the parade.
Over the loud speakers, a narrator prepared the crowd for the appearance of the dark rider. And at the end of the tale, he rode through the street. It was very cool. I wish I had better pictures of his ride. It was cool.
That also describes the parade.
The Boo To You Halloween Parade is perhaps the coolest parade I have ever seen at a Disney park. The characters look great. The music is catchy. It is fun with just a little bit of something different.
And now that that was out of the way, it was time for the real fun of the evening: characters and candy. And we didn't get much of this at first. It seems that this was the first sold out Halloween party of the year. And it was packed with people. There were crowds at every candy station and every character station. There were lines at the rides. This is a limited ticket event. But 20,000 ish people is a lot of people. Especially when you are all after the same thing.
Eventually the crowds were thinning and we were able to get some candy and meet some characters. The most memorable interaction was with Jasmine and Aladdin.
We got up to the front of the line. Of course they had seen us dressed up and made some comments. Lisa had made some kind of comment and Aladdin said sometimes it's hard being married. I replied, "Yeah, but your married to a princess. I've got a witch." And he got a very good chuckle out of that. Lisa didn't appreciate it though.
There was one character we had all been waiting to meet. The one character who has been the most loved in our household. There is only one character that tops our list of must meet this evening: Maleficent. Ever since #1S was 10 or 11 months old, he has been enamored with Maleficent. Our first trip to Disneyland, the only thing he really wanted was the Maleficent figure from Mattel. In other words, he wanted Maleficent Barbie. And he got it. And he has loved that thing ever since. He got the stuffed dragon the last time we were at WDW. And he was heartbroken when we couldn't meet her at Disneyland or at WDW last time. There is really only one time when Maleficent is out – Mickey's Halloween Party. And there was only one time to meet her – the Villains Meet and Greet in front of the castle.
The Villains have a little dance show they put on and then they come down and meet people for pictures. I am a videographer. I love videoing everything. And I wanted to get as much of the party on tape as possible. We got to the forecourt stage with plenty of time. Everyone behind us was watching the parade route for the headless horseman. We jumped right up front for the show. Dressed as I was, I wasn't interested in sitting down until the show started. So I was standing there getting my video camera ready for the show to begin. Lisa and the boys were all sitting down. Then I start to hear people not-quite-yelling from behind me, "Down in front."
Excuse me, but the last time I checked, this was not a theater. This is the place where people STAND and watch shows on the stage. I was here first and have every right to stand here if I want to. But I am also polite. If it is just too much work to get your lazy behind up off the oh-so-comfortable concrete to watch the show, then I will leave my family and go somewhere else. And that is what I did. I thought, why fight with these less than civilized jerks and ruin everyone's evening.
The show was very cool. The dancers were pretty hot. And I don't mean the, "my isn't it warm out here this evening" hot.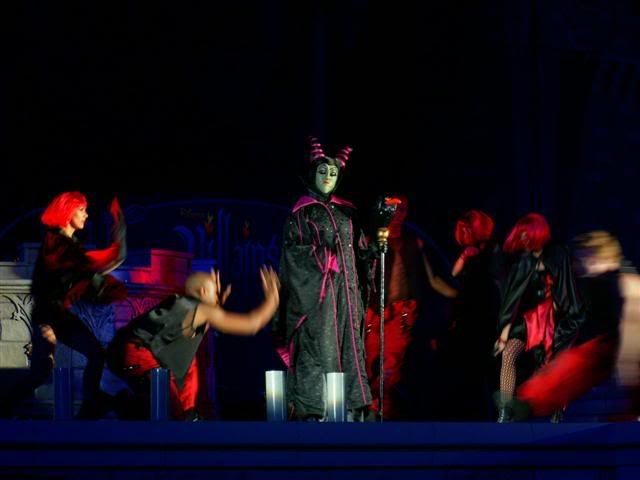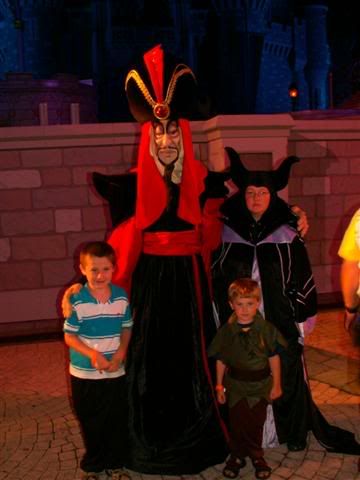 I think the raven knows it's a wig
We headed back over to ToonTown to head down the Queen of Hearts candy trail. I say it was hers cause we didn't see Alice. And the Queen was in very fun form. She had us rolling. #1S went up for an autograph. But she wouldn't take anyone's pen or book without a bow. Then, when he finished, he was supposed to take her hand and kiss it. Well, our son isn't that up to par on how to treat royalty. He would step up to her to take a picture and she would stamp her foot and put her hand out. He didn't get it. Finally Lisa filled him in on what she wanted. When he fulfilled her wish, she was eager to take a picture. Lisa got #2S's book out to get one for him. He was too wasted to meet her. He stayed in the stroller. Lisa did the whole curtsy and flairing her cape out. They were having a good time.
Lisa and #1S stripped off their costumes leaving me and Peter Pan decked out. It was quite amusing to see. Here I was dressed as Captain Hook pushing #2S around in the stroller dressed as Peter Pan. Write that into the next direct to video sequel.
I would say that something excited happened after that. But nothing really extraordinary happened. The crowds were beginning to thin out. We were able to get loads of candy. We saw a few other characters that night. But there wasn't much beyond that. We didn't ride anything else, because we were all over the unique party stuff. We didn't do the dance parties where some of the characters were. So we missed that. But we had a wonderful time
And by the time we left around 11:30, #2S was completely out of it.