While Lisa and the boys slept in the next morning, I wanted to get a few pictures of the Lodge. So I walked around with my coffeeish and got some nice shots.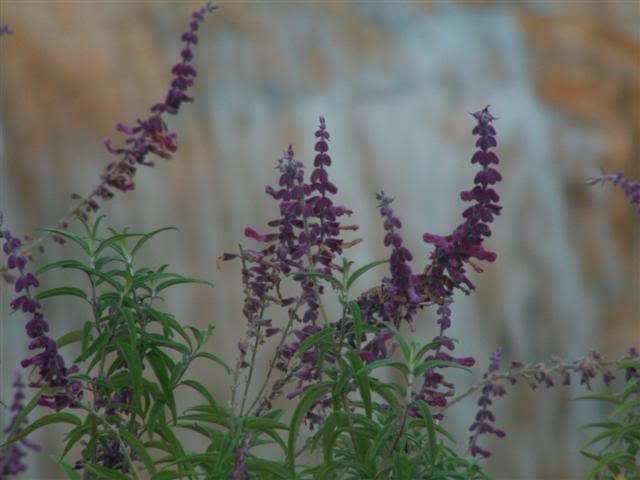 Then I headed back to see if everyone was up. We packed up the last items. We got our travel bags supplied. Checked the room. Threw away extra stuff. And then left our beautiful poolside Lodge room.
We got down to the Canyon restaurant and had to wait a bit. The boys were really out of sorts this morning. We were all exhausted. They didn't eat much of anything. We didn't even have seconds on the skillets that Lisa and I ordered. We were just ready to leave.
Lisa wanted to check on a few last minute items at the mercantile and pin cart. I wanted to see if it was possible to work some magic with our left over meal credits. The Disney Dining Plan was free, remember? Well, we took advantage of it. But not enough. Between the four of us and the meals we ate, we ended up with 0 snacks left (uncrustables were a snack, not a meal), 2 table service credits (Lisa and I didn't use the boys), and 10 counter service. Yes, 10. We just didn't eat as much as the plan provided. But there was no magic to be had. I wanted to swap for some snacks in the mercantile (cookies, candy, you know healthy stuff). But no dice. So with that we played in the arcade for a bit and went out to wait for our ride: the Magical Depress bus.
I admit that I teared up when we rolled off of the Lodge property. I deeply love this place. For some of you, you know that means that this is a powerful place. Leaving is hard for me. Lisa and the boys are ready to get home but sad in their own ways.
We get to the airport with the furniture. Unfortunately, we can't Magically Express our bags back. We have to check them ourselves. And luckily everything came in under the weight limits. Whew!! I was sweating it on one of them. After securing our belongings, Lisa and the boys did some last minute shopping in the airport.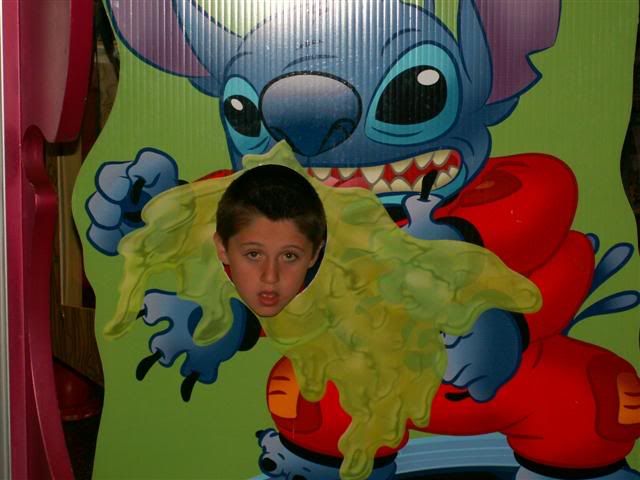 I went to work to get us a hotel room in KC. Our original plan was for me to nap on the flight home and then drive back that night. That was unrealistic by the time we got to leaving day. So we decided to get a room and have the boys miss Monday at school. Much safer for everyone concerned.
We ate lunch and got through security without a problem. Remarkable considering the amount of crap we were carrying. No alarms. Nothing stolen. Nobody lost. We rode the junior monorail out to our gate and started our way home.
I had made one tiny logistical error in the trip plans. Hey, I got us all on the same plane, the right day, and in the right direction so give me a little room for errors. I got us a very Looooooong layover in Atlanta. That took forever.
And we almost missed the plane for eating. But we got onboard for the last leg of our flight.
I'm not sure #2S even knew he was on the plane for this leg of the journey. He slept most of the way. #1S and I both napped a little.
But we got on the ground and out to get our luggage. I cannot believe that we have this much stuff. The shuttle driver looked at the mostly full shuttle, looked at our stuff, then looked at me. I was told to get on and then all of the furniture would get put on after me. No one was getting off that shuttle until our stuff was removed.
Our little car was brought around and I wondered how I would get all of that stuff in it. But somehow it all fit. Even better than when we drove to the airport. Talk about magic.
We set our car in the general direction of the hotel. I say general direction because I had NO clue where it was. I stopped for directions twice and neither of them had a clue. Helpful suggestion: if you work in a public venue like a gas station, at least be somewhat familiar with your surroundings. I finally found it after many turn arounds.
We got to the hotel and checked in. The boys were both out when we finally were ready to go to the room. They were snoozing hard. I get #1S while Lisa took care of #2S. We dug out the trusty sleeping bags and got into our room. And wonder of wonders, it had one bed. But it had a sleeper sofa. But the bed wouldn't fold all the way out. Because the desk was in the way. So the boys got to rough it on the floor again. But I think they would have slept on the hood of the car driving down the highway.
Next morning, the sun rose bright and cheery. We did not. We got out of the room and got out of Dodge. Well it was Kansas City, but they are both in Kansas. But we didn't leave before IHOP. MMmmmmm country griddle cakes.
4 hours later we arrived into our fair city. Now I should let you know that reality had attempted to smack into us already. That morning I got a call on my cell phone. I had someone asking for pastoral advice. I was in Kansas City without a single helpful thing to give. But asked them to call me back the next day when I was actually in the office. Then, when we get into town, we decide to stop and get milk. I happened to park next to a parishioners vehicle. When they came out, we chatted for a couple of minutes. It was then that I found out that the church has been broken into while we were gone. When Lisa comes out, I tell her we need to stop by the church. I check on everything and find out the church is okay. But another parishioner, who is at the church informs me that we have had a family leave the church. So this is how my life in reality smacked into me. The next day, I had two inquiries to do funerals.
So, what kind of discounts is WDW offering now?
But of all the pictures on the last day, this one captures the end of this trip.